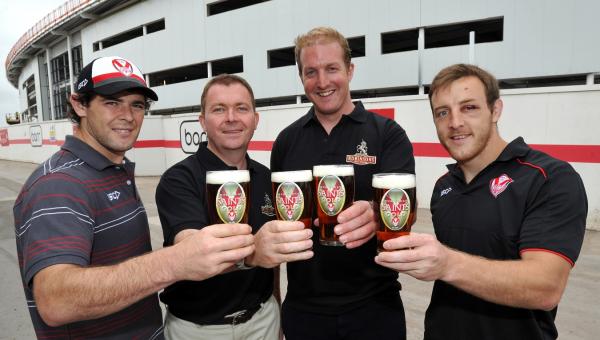 ROBINSONS Brewery of Stockport have just signed an exclusive five year deal with St Helens RFC as official drinks supplier at their brand new 18,000-seater stadium set to open this autumn.
The deal was complimented by brewery commitment to launch a new beer available at the stadium and surrounding pubs and clubs called Saints Gold.
"It is a sign of our long-term ambition in this region," commented a delighted David Bremner, director of marketing at the brewery. "Saints are one of the biggest club sides in the world and in the top two for domestic trophies on the pitch, but they wanted to work with a brewer who shared their local ambition and were looking to develop and long-term relationship- that's where we come in. We are planning promotions to attract fans to the bars around the ground and committing to "pub style" hand-painted signs once all the bars have been named in a forthcoming competition."
"Secondly, this new stadium is a real showcase for our brands. It is going to be the best stadium in the league and will provide us some great opportunities to engage with fans on current and new products. Alongside the £4m investment in the new brewery this is an exciting time for us and for those of us who don't know us too well- there's plenty on the way. We already have plenty of ideas on making this more than your average pouring-rights deal. The pubs will benefit too with access to players, sports forums and tickets as we bring the two parties closer. The deal compliments our recent advertising deal signed for pitch side advertising for the Old Tom brand which lasts until autumn 2012 at televised rugby union and rugby league games on Sky."
Saints CEO Tony Colquitt stated: "We are delighted to enter into this record and ground breaking partnership with Robinsons. The partnership will not only deliver first rate products to our fans but will also further grow the Saints brand across the Robinsons tenanted and free trade houses. We are working closely with Robinsons to ensure that the match day experience and service at the new stadium is second to none. We will be developing joint marketing plans with Robinsons and its partner brands to deliver great value for money and rewards for our loyal supporters. This agreement is indicative of the new revenue streams and brand partnerships that the new stadium will deliver to the club. It's a very exciting time for the whole town and the Robinsons/Saints partnership is set to grow and develop over the next five years."
Pictured are Paul Wellens, David Bremner (Robinsons Director of Marketing), John Robinson (Robinsons Brand Manager), and James Roby.