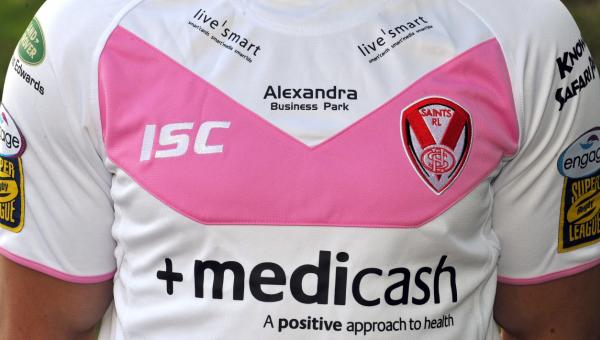 HAVE you got your Pink Vee shirt yet?
Saints will play in a unique one-off pink shirt to throw their weight behind the fight to beat breast cancer.
Royce Simmons' men will take to the field against Catalans on Friday July 15 (8pm) in the special kit to help raise money for the Burney Breast Unit at St Helens Hospital and promote Breast Cancer Awareness.
As well as a collection at the Engage Super League tie, the players' match shirts will be auctioned to raise funds.
Replicas of the superb looking shirt are now on sale in store and online at the Saints Superstore – and have nearly sold out.
Limited sizes are available to buy and proceeds of each shirt sold will go to the Burney Breast Unit.
The dedicated team at the Burney Breast Unit – who helped launch Saints home and away kits at the beginning of the season – are committed to providing patients with the best quality of care.
Based at St Helens Hospital, highly skilled staff detect and treat more than 200 cases of breast cancer a year.
This renowned unit has its own x-ray facilities and provides a one-stop clinic with rapid access for patients requiring screening and a range of treatments.
Patients treated at the Trust benefit from a unique collaboration between the Burney Breast Unit and the Mersey Regional Plastic Surgery Unit at Whiston Hospital. This enables surgeons to perform breast cancer surgery within the same operation as breast reconstructive surgery, leading to faster recovery times and better cosmetic results for patients.
You can get your shirt by visiting the Saints Superstore in St Marys Shopping Centre or online at www.saintssuperstore.com
Tickets for the Pink Vee Charity Match are on sale here, by calling into the Saints Superstore or by calling 01744 455 052.