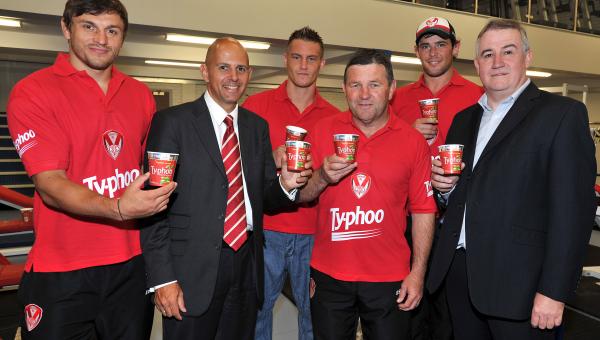 SAINTS have announced a two-year sponsorship with Typhoo tea, one of the nation's most established household brands.
As part of the agreement the club's home and away kits in both 2012 and 2013 will showcase the iconic Typhoo logo on the front of shirt.
The brand will also adorn all media back drops, official club stationery, matchday and season tickets, along with over 18,000 branded cups of Typhoo tea which will be served at each home game.
Typhoo will also create the 'Typhoo Family Area' where young children can go with their parents to enjoy the game.
St Helens and the club's fans will also support the Typhoo Sports for All programme with 'bucket' collections at selected games, enabling further funds to be invested in the community sports programme.
The sponsorship package, which will be supported by substantial marketing investment, continue Typhoo's commitment to sport.
Typhoo aligned in 2008 with the Federation of Disability Sport (FDS) to launch the 'Typhoo Sports for All' initiative, a programme to enable and improve access for disabled people to participate in sport.
The campaign was supported by both Sir Geoff Hurst and Martine Wright and to date this programme has trained well over 1,600 community sports coaches, making sport accessible to all.
The agreement, alongside a similar sponsorship of power boat racing championship P1 SuperStock, will support Typhoo's ambitious plans for growth in 2011-12, with the manufacturer aiming to deliver over 15 per cent growth in sales year on year.
Keith Packer, Typhoo Tea CEO, commented: "Typhoo is delighted to announce our latest sponsorship deals with two very well renowned sporting brands in the build up to what we know will be a very exciting year ahead. These two opportunities are perfectly aligned to Typhoo's company values and our continued association with sport, and we look forward to building a long lasting and meaningful partnership with the teams and sporting enthusiasts alike. This is the first of our major initiatives this year with more to follow…"
Tony Colquitt, St. Helens CEO, added: "St Helens are delighted to be entering into a partnership with a world class, FMCG brand which will broaden the profile of the club at the most exciting time in its history and widen the exposure of Rugby League to the public.
"We look forward to realising the full potential of this partnership and increasing the exposure of Typhoo and Saints via a host of joint initiatives.
"Additionally our Community programmes interact with more than 50,000 youngsters so alongside Typhoo's Sports for All scheme we will be joining forces to get more young people active."
Pictured are Jon Wilkin, Paul Wellens and Jamie Foster with Saints CEO Tony Colquitt (right) and Keith Packer, CEO of Typhoo Tea.