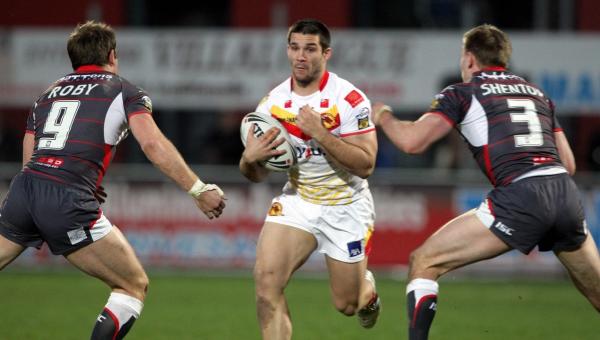 ROYCE Simmons says Catalan Dragons look like a side capable of winning silverware as Saints get ready to face them this Friday.
Both sides are locked on 21 points and the game is likely to go a long way in deciding who finishes in the top four.
"Catalans are a good side and gave us a real good run over there," Simmons said. "We lost some players early on and didn't have any replacements at the end but hung on in there.
"They played tough and aggressive and came over the top of us at the end. Since then, their coach has got their game plans going and they've found their feet. I think they have won 11 of their last 13.
"They've played Wigan, Huddersfield and Leeds and beaten them, as well as Warrington and knocked them over. Steve Menzies has been fantastic for them and the fact he has been in winning sides and played for his country and state is very positive. He has taken that attitude with him and they are jumping on the back of that.
"Added to that, their full back and half backs are in form and their big forwards are aggressive. They push the game to the edge and have the makings of a side that are after a little bit of silverware.
"But everything is in our own hands. We have to play Huddersfield and the Cats are running with us. If we don't finish third or fourth then we can't blame anyone other than ourselves."
Saints head into the clash with Leon Pryce back in the squad since, ironically, injuring his groin back in that win over Catalans in March.
But there is no room for Paul Wellens and Paul Clough who are suffering from Achilles and ankle injuries respectively.
There are also doubts over a number of other players including Louie McCarthy-Scarsbrook.
"It's been a tough week," Simmons added. "From reports the pitch wasn't in great condition on Sunday – so my coaching staff say – and it had pretty large divots in it. We've picked up a lot of ankle, Achilles and calf strains.
"We trained on Tuesday with only six from the team that won at Wakefield but I think most will play touch wood.
"Wello should be back within a week, whereas Cloughie's ankle will be two to three weeks. Wheels is due back in two to three weeks too.
"Leon will be in the 17 – but not in the starting line-up. He has had three tough conditioning sessions and as I carry a back on the bench he will be there and we will try and edge him back into the game if possible."
Tickets for the Pink Vee Charity Match – which kicks off at 8pm – are still on sale. You can buy from the Stobart Stadium tonight or by calling into the Saints Ticket Office in St Helens Town Centre until 3pm.
Matchday Programme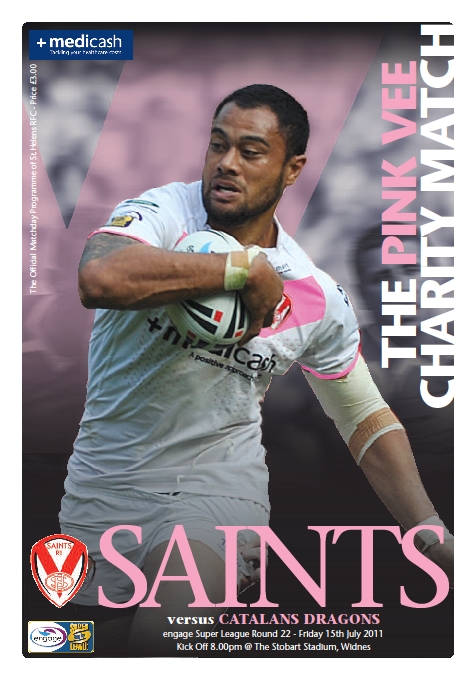 'Sir' Tony Puletua is the next Saint to undergo the spotlight in the latest edition of the club's matchday programme. He talks about why Saints were the only club for him and how he feels his season is going so far. Elsewhere, Gary Wheeler discusses his return from injury whilst Eamonn McManus says the next two months are critical. There's the usual columns from Paul Wellens and Royce Simmons, and Mike Critchley suggests the Saints have never had it so good. Priced at £3 it's too good to miss…