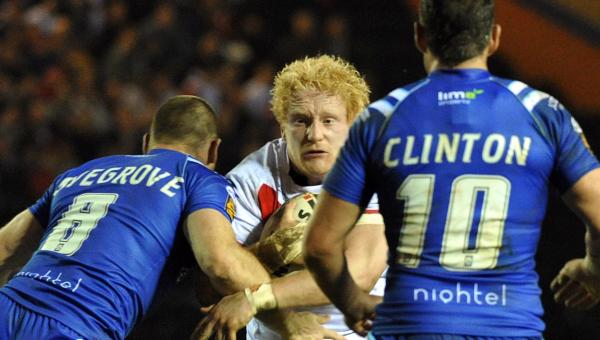 ROYCE Simmons knows the importance of the Challenge Cup to St Helens and is urging the fans to get behind the team on Sunday.
Saints lie just 160 minutes away from another Wembley appearance – but face an opponent in form this weekend at the Stobart Stadium.
Hull KR come to Widnes on the back of a four-match run and are expected to bring a large travelling support.
That means the Saints fans are more important than ever as the club seeks its eleventh semi-final in a row.
"A lot of people have asked me what it would mean to win the Challenge Cup and quite simply it would be tremendous. It is one of the greatest competitions, with great history, played at one of the greatest stadiums," Simmons said. "We are involved in Rugby League to be winners; you do not compete to run second, and I know how important the Cup is to the fans.
"At the start of the year everyone would want to win the cup and we're no different. But at the end of the day we have to win this game to stand a chance of making the final.
"It would be tremendous to see us win it of course. We have a good set of young blokes who work really hard and a back room team that do the same and one of our captains is leaving at the end of the year… so there are a lot of reasons to win it and we'd love to do it for the fans too."
He continued: "Hull KR had a good season last year and strengthened further this season. But they lost Michael Dobson, Blake Green and Clint Newton to injury and suffered. But since those players have come back they have hit some form and are very dangerous with those combinations on the park.
"Their back rowers run good lines too and they have a strong full back and good halves. Kris Welham is a really good footballer and is the league's top try scorer.
"Right now they are not in the eight but will be busting their tail to get into it. Now they have the cup in front of them and they will be thinking this is the opportunity to make their mark this season and get into the semis.
"But we know there's no room for error and no second chances… so we need the fans to be behind us on Sunday and roar us on."
Tickets for Sunday's Challenge Cup Quarter Final tie with Hull KR at the Stobart Stadium are still on sale. You can get yours by calling into the Stobart Stadium's ticket office from 12pm on Sunday. You can also pay at turnstiles 1 and 2 in the North Stand.