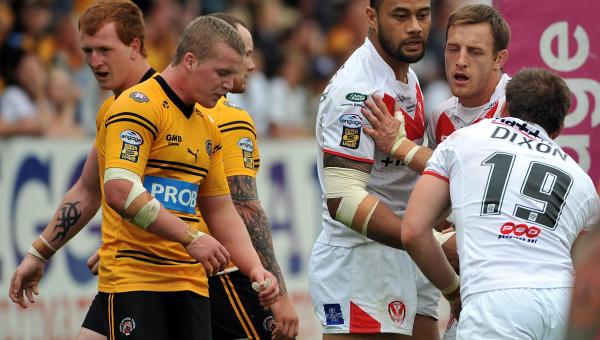 ROYCE Simmons thought Saints got off to a great start against Castleford but switched off to let their opponents back in.
Saints led 18-0 after the first 12 minutes and were coasting until Rangi Chase inspired a Tigers recovery.
But a vital Paul Wellens' try as the half time hooter went was crucial as they ran out 46-26 winners.
"I was happy with the start of the game and getting to 18-0," Simmons said, "but I think we started getting a little bit ahead of ourselves and started worrying about next week.
"We got there by playing some good footy but then Cas really began to control the ball and had 15 out of the next 20 sets. We should have been a little more professional and controlled the ball because as we know Castleford can score points.
"We were down to just one interchange and ended up with none just after half time. In the end we ground it out and ended up with a win."
He continued: "I thought a number of our players did well; Michael Shenton has been good all year but you expect that from an international. He gets a lot of raps for his attack but he does not get enough for his defence. He played well today as did Tony Puletua.
"There were a few stages when we did not have too many troops to put back out on to the field and he took the game by the scruff of the neck. I asked him to lead by example when he was going back out and I thought he did that."
Saints lost Shaun Magennis in the match to a serious looking groin tear whilst Jonny Lomax [head], James Graham [back] and James Roby [hand] also left the field.
Robes has also been placed on report for what looked like an alleged spear tackle in the first half.
"I haven't seen it on video and would like to see it," Simmons continued. "Blake Green did something similar last week and it wasn't reported and this was very close to that.
"He also has the cleanest record in the game so going off last week and his record I would like to think he will be ok.
"But Magennis will be out for quite a while. I feel for the bloke – he is one of the most professional we have at the club and has worked so hard to overcome his injuries. He trains hard and has bounced from one injury to another.
"James Graham took a bit of a blow around the head and then tightened up in the back and lost the power to his legs. Jonny Lomax had stitches to a cut and James Roby has a hand problem which we will get x-rayed."
Saints' next match is the Carnegie Challenge Cup Semi Final against Wigan Warriors at the Halliwell Jones stadium on Saturday August 6 at 4.30pm.
Tickets are still available and details are here.
Simmons said: "We know how much is at stake. The ground is going to be full and there will be a great atmosphere for what will be a great game of footy. That is why I am in the game – I love footy and like competing.
"We have worked hard and come through a lot of problems with injury and so on through the year and got ourselves into a semi so we can be proud of what we have done.
"But the job is not finished and so we will be going in there with all guns blazing against a side that will have their own guns too.
"They are a good side and it should be a great contest."