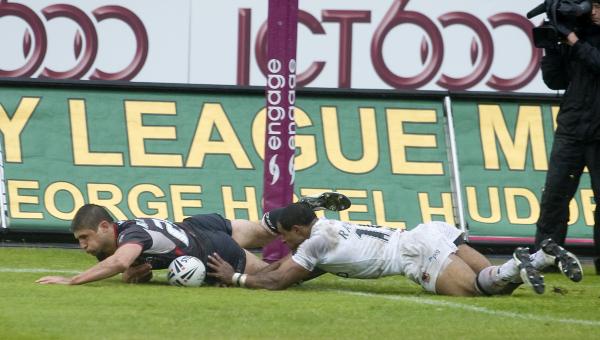 THE Super League and Sky Sports today announced the signing of a new broadcasting agreement to screen live Rugby League matches at the elite level until the end of 2016.
The new five-year agreement sees the Super League gain a record-breaking deal for exclusive rights to matches played during the 2012-2016 seasons spanning Super League XVII to Super League XXI, and taking the partnership with Sky Sports up to its 21st year.
"At a time when broadcast fees in sport have been under real pressure, this is a tremendous outcome for the sport of Rugby League," said RFL Chairman Richard Lewis.
"It clearly demonstrates the confidence that Sky Sports has in the game's current and future appeal and will give everyone involved in the sport a real boost.
"This is the first time we have sold domestic rights independently of international rights and so it bodes well for those sales which will be concluded either later this year or early next year."
The agreement with Sky Sports will see up to 70 Super League games being televised each season, including all Play Off matches and the end of season Grand Final at Old Trafford. In addition, live match coverage will be supported by additional programming every week including Boots 'N' All, Super League Super Men and Super League Extra Time.
Since 2001, television income for Rugby League has markedly increased. This growth has been matched by an increase in the number of fans attending matches from 1.2million in 2002 to 1.7million in 2010. More than one million young people received coaching over the last four years and in 2010 alone the number of adults participating in the sport increased by over 30,000.
"Our partnership with Sky Sports has been an important factor in the sustained growth of the game over more than a decade and we value the relationship we have with Sky and thank them for their continued support and excellent broadcast production values," added Lewis.
"The extended partnership from three to five years will enable us to plan for the future and tackle the issues we need to address in order to make Super League stronger."
Since the first Super League game was broadcast on Sky Sports in March 1996, nearly 3,000 matches have been screened covering some 424 rounds of weekly competition. Innovations during that time have included the video referee for difficult try decisions and events like the Grand Final and Magic Weekend, shown live in 3D this season.
Commenting on behalf of Sky Sports, Managing Director Barney Francis said: "We are pleased to extend our partnership with the Rugby Football League for a further five years. Sky Sports has worked in tandem with the Rugby Football League as its principal media partner to showcase the game and support its development over the last sixteen years."
All live Super League coverage will be shown in HD and selected matches in 3D, and available to be watched by Sky subscribers with Sky Sports on mobile, online and tablet devices via Sky Go.