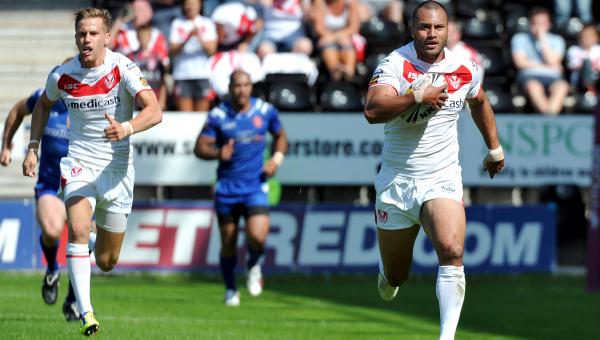 SAINTS have announced their 19-man squad for Saturday's Carnegie Challenge Cup Semi Final against Wigan Warriors at the Halliwell Jones Stadium in Warrington.
Sia Soliola and Francis Meli return from injury, whilst Paul Clough is also named after coming through the under 20s match against Castleford last weekend.
The squad is:
1. Paul Wellens, 3. Michael Shenton, 4. Sia Soliola, 5. Francis Meli, 6. Leon Pryce, 7. Kyle Eastmond, 9. James Roby, 10. James Graham, 11. Tony Puletua, 12. Jon Wilkin, 13. Chris Flannery, 14. Scott Moore, 15. Louie McCarthy-Scarsbrook, 16. Paul Clough, 19. Andrew Dixon, 20. Jonny Lomax, 22. Jamie Foster, 25. Lee Gaskell, 28. Thomas Makinson.
Michael Maguire, Wigan's Head Coach, will choose from:
1. Sam Tomkins, 4. George Carmont, 5. Pat Richards, 6. Paul Deacon, 7. Thomas Leuluai, 9. Michael McIlorum, 10. Andy Coley, 11. Harrison Hansen, 12. Joel Tomkins, 13. Sean O'Loughlin, 14. Paul Prescott, 15. Jeff Lima, 16. Ryan Hoffman, 17. Brett Finch, 21. Lee Mossop, 22. Liam Farrell, 25. Josh Charnley, 34. Gareth Hock, 35. Ben Cross.
The match kicks off at 4.30pm and the referee is Richard Silverwood.
If you can't make the match it will be covered extensively in the Match Centre as well as on Saints' Official Twitter and Facebook sites.
Stats:
St Helens are appearing in a record-extending 11th successive Challenge Cup Semi-Final. They have won six of the semi-finals and gone on to win the Cup five times in the period.
The only current Saints player to have played in all ten of the previous Semi-Finals is Paul Wellens.
Wigan are appearing in a record (shared with Leeds) 43rd Challenge Cup Semi-Final. They have won 29 and lost 13 of their previous semi-finals.
Saturday's game will be the first Challenge Cup Semi-Final the old rivals have contested since Wigan's 20-14 victory at Old Trafford in 1990. That was the second of an incredible nine Challenge Cup meetings between 1989 and 1998.
Saturday's game will be the fifth time the sides have met in the Challenge Cup since the turn of the Millennium, with Wigan's only win in that period coming in the 2002 Final (21-12) at Murrayfield.
St Helens – Previous ten Challenge Cup Semi-Finals:
2001: Won, v Leeds (27-22) (at JJB Stadium, Wigan)
2002: Won, v Leeds (42-16) (at JJB Stadium, Wigan)
2003: Lost, v Leeds (26-33, aet) (at McAlpine Stadium, Huddersfield)
2004: Won, v Huddersfield (46-6) (at Halliwell Jones Stadium, Warrington)
2005: Lost, v Hull FC (8-34) (at Galpharm Stadium, Huddersfield)
2006: Won, v Hull KR (50-0) (at Galpharm Stadium, Huddersfield)
2007: Won, v Bradford (35-14) (at Galpharm Stadium, Huddersfield)
2008: Won, v Leeds (26-16) (at Galpharm Stadium, Huddersfield)
2009: Lost, v Huddersfield (14-24) (at Halliwell Jones Stadium, Warrington)
2010: Lost, v Leeds (28-32) (at Galpharm Stadium, Huddersfield)
Previous Challenge Cup meetings:
2005 (Quarter Final) St Helens 75 Wigan 0
2004 (FINAL) St Helens 32 Wigan 16 (at Millennium Stadium, Cardiff)
2002 (FINAL) St Helens 12 Wigan 21 (at Murrayfield, Edinburgh)
2001 (Round 4) St Helens 22 Wigan 8
1998 (Quarter Final) Wigan 22 St Helens 10
1997 (Round 4) St Helens 26 Wigan 12
1995 (Round 4) Wigan 16 St Helens 16
1995 (Round 4, Replay) St Helens 24 Wigan 40
1993 (Round 2) Wigan 23 St Helens 3
1992 (Quarter Final) St Helens 6 Wigan 13
1991 (FINAL) St Helens 8 Wigan 13 (at Wembley Stadium)
1990 (Semi-Final) St Helens 14 Wigan 20 (at Old Trafford, Manchester)
1989 (FINAL) St Helens 0 Wigan 27 (at Wembley Stadium)
1986 (Round 2) Wigan 24 St Helens 14
1984 (Quarter Final) St Helens 7 Wigan 16
1982 (Round 1) St Helens 12 Wigan 20
1977 (Round 2) Wigan 4 St Helens 9
1973 (Round 2) Wigan 15 St Helens 2
1966 (FINAL) St Helens 21 Wigan 2 (at Wembley Stadium)
1965 (Round 2) Wigan 7 St Helens 2
1961 (FINAL) St Helens 12 Wigan 6 (at Wembley Stadium)
1930 (Semi-Final) St Helens 5 Wigan 5 (at Station Road, Swinton)
1930 (Semi-Final, Replay) St Helens 22 Wigan 10 (at Mather Lane, Leigh)
1929 (Quarter Final) St Helens 2 Wigan 2
1929 (Quarter Final, Replay) Wigan 25 St Helens 5
1897 (Round 3) St Helens 11 Wigan 0
Records:
Highest score: Wigan 71 Bradford Northern 10 (1992) (Also widest margin)
Most points by losing team: St Helens 28 Leeds Rhinos 32 (2010)
Highest scoring draw: Leeds 24 Hull Kingston Rovers 24 (1986) (Hull KR won replay 17-0)
Scoreless draws: There have been five, with the last being Halifax v Hull FC in 1988
Highest attendance: 69,898 (Warrington v Leeds at Odsal Stadium, Bradford – 1950)
Lowest attendance: 5,500 (Batley v Warrington at Fartown, Huddersfield – 1897)
Players:
Most tries: 5 by Martin Offiah (Wigan) v Bradford Northern (1992)
Most goals: 9 by Frano Botica (Wigan) v Bradford Northern (1992)
Most points: 22 by Frano Botica (Wigan) v Bradford Northern (1992)