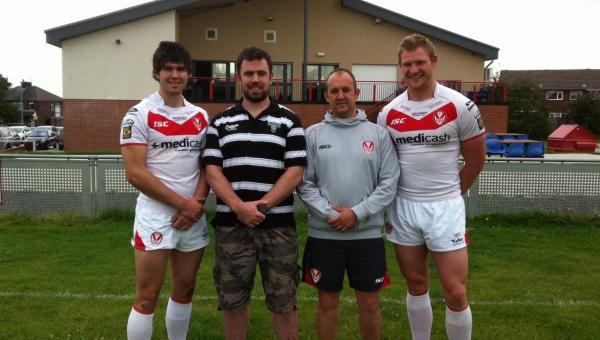 SAINTS have announced the signings of young Irish Rugby League stars and Limerick natives Aaron McCloskey (right) and Ian Cross (left) after both players greatly impressed coaches during trial periods.
The Saints were one of a number of Super League clubs who attended Rugby League Ireland's inaugural Talent Identification Academy that took place in Limerick this May where both players were identified as potential future stars and given a trial with the Super League heavyweights.
The Academy was the brainchild of Brendan Guilfoyle, Development Manager, Rugby League Ireland as it continues to grow the game nationally and improve the Irish International team ahead of the 2013 Rugby League World Cup by offering young rugby stars a means of showcasing their raw talent to Super League coaches.
As both players have come from a Rugby Union background, St Helens now plan to immediately place the players in a foreign domestic league for the remainder of the season, in order to gain important match day experience before returning to the Club for preseason training for the 2012 season.
Both Aaron and Ian recently made their Ireland A debuts and the newest members of the St Helens squad will most likely feature for Ireland in the Autumn Internationals against Samoa & France in Thomond Park in their hometown of Limerick later this year.
Gordon Matthews, General Manager of Rugby League Ireland, congratulated both players saying: "Everyone involved is delighted for both Aaron and Ian. The fact that one of Super League's most prominent clubs, St Helens has signed both lads is a testament not only to their individual talent & commitment but also to the general high quality of player we know exists in Ireland. I think this will encourage more and more young players to attend next year's Academy.
"A career in professional Rugby League is something that young Irish athletes can really aspire to and for the development of the game in Ireland the more players who make the breakthrough at Super League or English Championship level the better. This is really great news for Rugby League in Ireland and I would also like to take this opportunity to thank Mike Rush from St Helens for attending the initial Academy in May. His presence added great credibility to our initial Academy and I am delighted that his club's faith in the project has been rewarded with the signing of two exceptional young Irish talents for St Helens."
Saints High Performance Manager Mike Rush added: "Both Aaron and Ian have been a credit to themselves and their families while attending the first trip to St Helens, both players have excelled in relation to their previous rugby league experience and hopefully they can make the next step in professional rugby league"
Rugby League Ireland currently registers 20 clubs throughout the country and their three provincial league season runs over 14 weeks.
Aaron (pictured right) is a prop forward whilst Ian (left) is a centre/stand off.