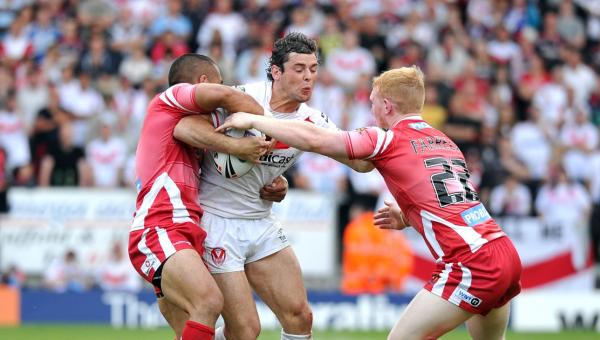 ROYCE Simmons reckons this Friday's Super League clash with Huddersfield Giants will be a real test of mental strength for his side.
Saints were edged by Wigan in the Carnegie Challenge Cup on Saturday and have a short turnaround to prepare for the visit of Nathan Brown's team.
Both sides are separated by just a point too – adding more spice to the contest.
"We're all very disappointed about the match and now have to put that game behind us and get on with the Huddersfield match this Friday," Simmons said. "We were all gutted we haven't beaten Wigan. Even though we had senior players injured and they were very courageous to play we still thought we would win.
"We defended so well for so long but two of their tries came from dummy half and that is basic stuff. We had good defence on the edges and controlled them well but let in a couple of soft tries.
"We missed a few opportunities in the first half because our execution wasn't quite right. You only get a couple of opportunities when you play a side like Wigan and you have to take them.
"We have reviewed the match and have looked at the positives we can take from it. If we had selected our pass a little better we could have scored in the first half and that would have made a big difference.
"But we now need to move on. As a coach you worry about if the players are deflated from the game – especially as we have a short turnaround. If we still feel sorry for ourselves we are going to go down the tube two weeks in a row.
"But I think we are tough enough to deal with defeats like this. We have players here who have been there and done it. Some have won cups and Grand Finals… we aren't a team of rookies after all.
"Myself as a coach I have been there before too and done it. I can't mope about the place; I need to get going and get the lads going too. We need to be mentally tough and good to go again. But we know it will be a real test of character for our side.
"They took themselves to the heights to prepare to play a team like Wigan and they have to do it again."
He continued: "We have a lot to play for this week. We can be down and disappointed or we can say we are playing this week and it's Paul Wellens' 400 game for the club; a bloke that all the players love playing with as he competes every time he goes out on the field.
"I can't get my head around playing 400 games. I played about 250 and I can't walk! He has played so long for one club and been part of so many victories, cups and Grand Finals. That alone should be enough for the boys to bust their arses to get the win.
"There's also the chance for third spot and we are on SKY TV too. It is the chance to show people around the world what a great rugby league side we have here.
"I'd like to thank all the supporters for turning up at Warrington like they did and the atmosphere they brought, it was tremendous and the players appreciated it.
"I know they have spent a lot of money and have to travel to Widnes but I think we should have a big big lot of that stadium full for when a guy like Paul Wellens plays his 400th game.
"I know it is hard back to back to pay for tickets and things like that, but I just think it is a very special moment that should be celebrated.
"It is very special and it would be good if we could have a great atmosphere there with a lot of people there."
Although James Graham and James Roby played injured last week – both are expected to play against Huddersfield on Friday after their problems began to ease.
But Jonny Lomax, Chris Flannery and Tommy Makinson won't feature as they suffered dead legs in the defeat.
Kyle Eastmond won't be back either as he has a groin problem.
"Tom Armstrong – he's been on the dual register at Leigh – will come and play for us and Andy Dixon will come into contention," Simmons added. "Gary Wheeler came through his under 20s test last week – his first game back for 14/15 weeks – and he will come into contention for selection on the bench. Lee Gaskell naturally will be the half to come back in.
"James Graham is a bit better this week too – his back as I said wasn't too great last week and he has had concussion as well. I have spoken to Stuart Cummings as he is copping a few around the melon from game to game.
"I asked him to have a little look at it and they said they are on to it."
Tickets for Friday's game are now on sale from the Saints Ticket Office in St Helens Town Centre, by calling 01744 455 052 or by logging on to www.saintssuperstore.com