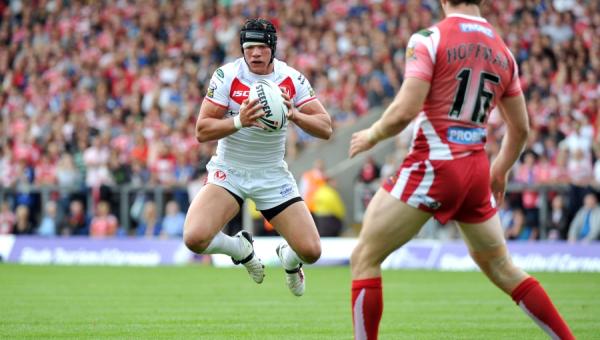 JONNY Lomax has been speaking about his unbelievable year – but remains grounded as to what the future may hold.
The 20-year-old has made 23 appearances this season after beginning the campaign as a utility player.
Now, he's secured the iconic scrum half position but is under no illusion that it's his for keeps.
"I'm massively enjoying it this year," he said. "At the beginning of the year I was seen as a utility player. Then I got a chance to play against Leeds and hopefully I took it. Royce has kept faith in me in that position and I am grateful.
"When I was amateur, I played at half or full back – but in pivotal positions. I am pretty happy where I am at the minute and I will do as much as I can to stay there.
"I didn't get the chance to play there last season and I think it was because I struggled with communication – telling Jammer to go here and there for example – it was tough. They told me I needed to talk and they would back me; the lads had confidence in me and I had to back myself.
"So when I got the chance this season I started calling the plays and they went with me like they said they would. I am grateful they did as it has given me the confidence I needed to grow in the role.
"Off the field I am quiet – that's why I enjoy the role so much because I can get away with it! Jammer told me that it was the only thing holding me back and Leon said the same too. So I took their advice.
"I get a lot of good feedback from them – and most of it is banter! They say 'the old Jonny wouldn't do this' but I give as good as I get."
He continued: "Playing with Lee [Gaskell] has been good too, but I don't know if it is strange or not. We played amateur against each other, together in town teams and scholarship, the academy and at under 21s.
"When we got put together we sat down and thought 'we know how it is, let's carry on, it's just a bigger team and bigger stadium… we should try do our own thing'.
"We work well as we have a lot of respect for each other. We are grateful that Royce give us the chance to play together and showed a lot of faith in us too.
"But we know we both have to improve."
Jonny's remarkable year was capped when he was called up to the ETS after being named in the England Knights side.
"It was huge for me. At the beginning of the year I was seen as a utility and if someone would've said I would be playing scrum half for St Helens and part of the ETS too… I would have told them where to go!
"I thought I would play about 16-ish games because I did that last year. At the start of the season Royce had me at left centre and I missed pre-season so I felt I was playing catch up. From there to where I am at the minute has well over exceeded expectations.
"But I just out my head down and do my job really – I don't think about the future.
"I think week to week and don't think ahead. It's whoever we play this week and then I move on to the next week. People talking about me making my debut for England… well, it's overwhelming really."