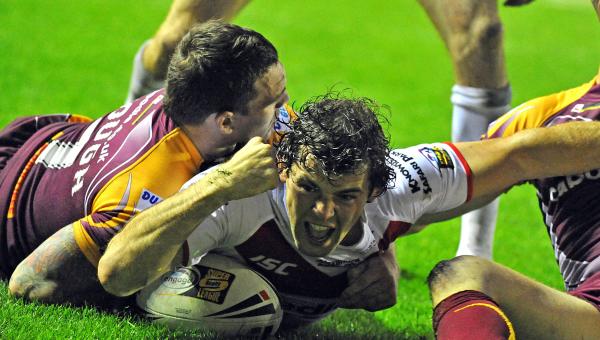 ROYCE Simmons praised "a gutsy win" as Saints cemented third place in Super League.
They beat Huddersfield Giants 19-6 to get back on the horse following last weekend's Challenge Cup Semi Final disappointment.
"It was a gusty win," he said. "Our defence was outstanding the whole game – particularly in the first half, but for the whole game really.
"It was a very important win and good to do it on Paul Wellens' 400th appearance.
"He capped off a good performance with a try. When there is a chance to score, he goes where a lot of people won't go and gets over the line. He's a determined bugger and he doesn't let the worry of charging into knees and things like that to get in the way of him putting the ball over the line.
"He is good to have around the place as he competes and hates losing.
"The guard of honour was very special. Mike Appleton, our media manager, called me in the week and we decided to do it. Playing with someone who played 400 games is something else and it's a fair honour too."
He continued: "I thought we played very well and Louie McCarthy-Scarsbrook led from the front. What I liked about his try was that he didn't panic. He made the break and a lot of other players would have looked for the pass.
"Not only did he back himself to score but I think he thought he would get tackled and his side would score in the next play."
Saints are awaiting the results of a scan on a damaged rotator cuff to Tony Puletua who pulled out of the squad on Thursday.
Simmons said the big man could be out for less than a month, but longer if he needs an operation.