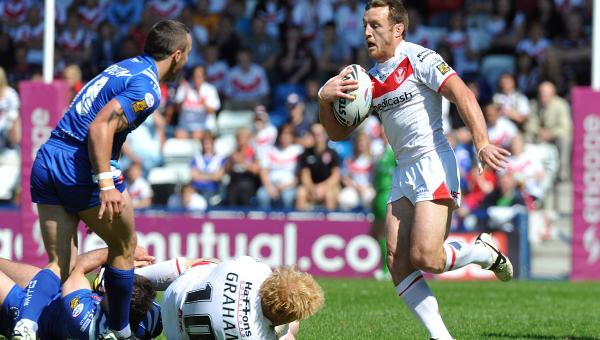 JAMES Roby is naturally one of the front runners for Man of Steel.
The 25-year-old has had a stellar campaign and committed himself to Saints earlier in the year for the next four seasons.
But the laid back hooker says he's just interested in doing his job and playing his own game rather than personal plaudits.
"I knew it would be a big year for me as with Keiron Cunningham leaving it was always going to be a big void to fill. KC has been here for so long and we all know how highly rated as a player he was. A lot was made of him leaving at the beginning of the season but I just got on with my job and wanted to play my own game.
"It's not really been mentioned since so I will take that as a positive! I was seen as an impact player but I think I have turned that perception around and now people associate me with a full match playing number 9. I enjoy that and want to be on the pitch as much as possible and don't like coming off. The more minutes I played at the beginning of the year I adapted to it and I feel very comfortable playing that length of time.
"I feel more like a senior player this year and hopefully I can continue to go in that manner."
He continues: "I don't like making excuses but when you take into account playing at Widnes for the season and the injury situation then I think if you were offered third at the beginning of the year you would have taken it. But I think the main thing that has come is the young lads who have stepped in because of injury and the lads who have made their debuts.
"It is positive for the club and the community too that these lads have come through the system and have not just filled in but made a stake for their positions.
"They will have learnt a lot too – we have lost games when we should have won – and they are surrounded by international players. The learning curve got steeper when we lost to Wigan in the cup. When I was young I took it for granted that we would just go out and be fine. That happened in 2006 and I thought we were unbeatable.
"We were close to Wembley this year and the loss will hopefully be a reminder."