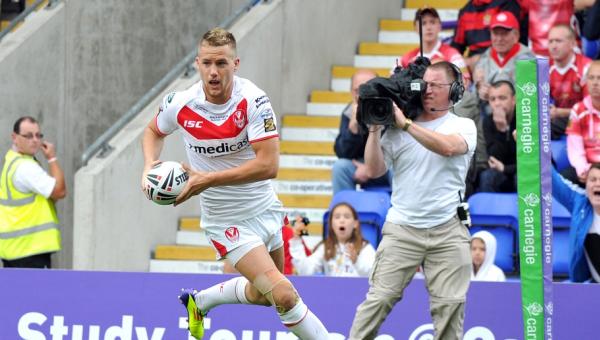 IN October 2010 Jamie Foster experienced the highs and lows of being a professional rugby league player.
After appearing in his first ever Grand Final and the emotion attached to that, he was slumped on the grass at the final whistle as Wigan took the spoils.
But that moment has steadied his resolve and the youngster is determined to put things right this season.
"I suppose I have made good progress this season and things have been pretty good for me," he says. "I got my goal sheet at the beginning of the year and I wanted to play 15 games. Royce has given me the chances and I think I have earned the respect off the senior boys with my performances.
"But, it all kinda means nothing now as we are at the business end of the season. It was great to taste this point last season as the atmosphere is brilliant. I am looking forward to being a part of it again.
"It was a high point of my career playing at Old Trafford, but sitting on the grass and watching them jumping all over each other was hard to take. I felt sick knowing that it was a chance for us to see KC off on a high and they took it away from us.
"I think it is a bit of a revenge mission this year and there's not too many people in the team scared of saying it. It's going to be brutal, tough and exciting. Yes, we've been to a lot of finals and not won. We know what we have to do and know the reasons why we lost those games. If we were scratching our heads then that would be hard. So we are preparing well for it, training is going well, the players up for it and the senior boys are too. We are all buzzing ready for it."
Jamie has made 45 appearances for the club and has scored 31 tries and kicked 209 goals. He's been in situations throughout the season when his accuracy with the boot has proved vital.
But he doesn't feel the added pressure.
"I'm not trying to sound like I am Mr Cool but I don't let it get to me. I am confident in what I can do as I have been kicking goals all over the field since I was six. So, if I'm doing it on my own or at a full DW Stadium I know I can do it.
"I try and treat all the kicks the same – I believe I can kick them and I can hear my granddad in the back of my head telling me what to do. Sometimes I just put my foot through the ball and hope for the best really. It's something I thrive on and I can't wait for it.
"I don't practice so much these days as I think I can kick myself out of form. Sometimes I go to Ruskin Drive late at night and have a kick with my granddad.
"This is our opportunity now though. I have played in a number of big games and want us to look back in a few years and say 'remember that game against Wigan?' and 'look what we achieved'."
Mega Sale! Saints Superstore and www.saintssuperstore.com are holding a Mega Sale with hundreds of items now reduced in price.
As the Saints look ahead to the challenge of facing Wigan on their own patch this weekend, why not take this chance to deck yourself out in official merchandise to show your colours.
Retro shirts priced from just £5, T-shirts from just 50p and polos and jackets from just £5, are just a few of the lines that have been flying out the door.
ISC Trainingwear reductions of up to Half Price, plus Kooga Training wear and protection all at half price are certain to be snapped up fast. Get yourself down to the store and grab yourself a bargain today. Whilst stocks last!