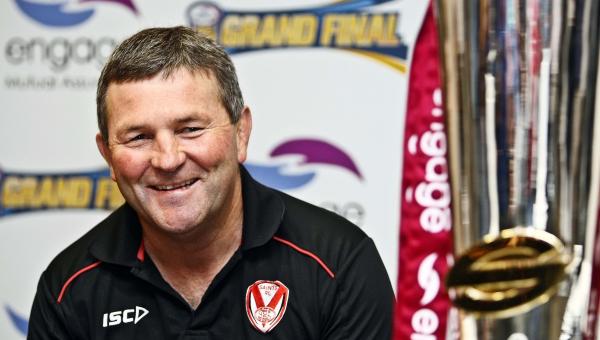 IT'S been a busy week for Royce Simmons, his team and Saints Media Department ahead of the Grand Final.
As well as the plethora of TV, Radio and Newspaper interviews, Sky Sports and Granada have filmed training and Sky Sports News covered a community training session today.
Trans World Sport, one of the world's most popular sports programmes, which is broadcasted in over 180 countries and to 300 million homes, will also feature the club in this week's programme. The show will be available on the Sky Sports platform later this week.
Saints Fanzone has video and audio clips building up to the final and the main site alongside Saints Official Facebook and Twitter sites will be the places to be ahead of the big game.
And, England coach Steve McNamara, along with the Super League trophy, will be in London on Thursday promoting this Saturday's Engage Super League Grand Final, when St Helens take on Leeds Rhinos at Old Trafford.
McNamara will be on a whistlestop tour of the capital visiting many of the national media outlets. He will feature live on BBC Breakfast on BBC 1 and BBC News Channel, BBC Radio Five Live Breakfast, BBC Radio Four Today Programme and there will be cameo appearances on TalkSPORT's afternoon programme and Sky Sports News. His day will be capped off as a live guest on one of the UK's most popular radio shows BBC Radio Two's Simon Mayo Show from 6.30pm.
Meanwhile, BBC Radio Five Live Sport will broadcast live from Old Trafford on Saturday. The popular sports radio show, hosted by Mark Chapman, will broadcast in full for the first time from BBC's new home MediaCityUK in Salford and also live from Old Trafford with the match being broadcast in full.
In addition, Five Live Sport will have a full preview of the Grand Final on Thursday night from 7.30pm with guests from both St Helens, including assistant coach Keiron Purtill, and Leeds on the programme.
Sky Sports will commence their coverage of the Super League Grand Final on Saturday from 5pm with a full hour build up to the big kick off and for the first time the Grand Final will be shown on Sky 3D.
Tickets for the 2011 Engage Super League Grand Final cost from just £21 and are available by calling the Saints Ticket Office on 01744 455 052 or by calling into Saints Town Centre Store in the Brownlow Arcade.