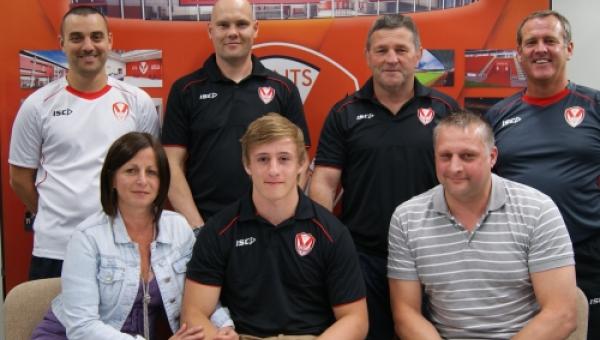 FIVE St Helens youngsters have been selected to form part of the England Academy Squad to face the Australian Institute of Sport on Sunday, December 4 at Leigh Sports Village (3.00pm)
Danny Yates, Dom Speakman, Greg Richards (pictured), Greg Wilde and Mark Percival have all been named by Academy head coach Dave Elliott in the 21-strong squad and they are joined by players from nine other Engage Super League clubs.
Saints have the largest contingent in the squad, with five youngsters represented while Bradford are close behind with four representatives and Warrington with three. Wigan Warriors and Leeds Rhinos both have two players in the squad while Hull FC, Harlequins RL, Huddersfield Giants, Widnes Vikings and Wakefield Wildcats all have one player each selected.
"We're all looking forward to what lies in store and the players themselves are excited about the test," said Elliott. "It's a different challenge for us. We played against France in the summer but this will be a different type of test and we'll be going up against a team, which I'm sure will have lots of quality.
"We had some good experiences against France when we played them and to cap the year off with a win against the AIS is something the lads would all like to do. They all want to finish the season on a high and this game is a great opportunity to do that.
"But this is also a great test for the players. This game offers the guys a great opportunity to prove themselves at this level and gives us, as coaches, an opportunity to see how they have developed through the season."
Elliott led the England Academy to a 2-0 series win over the Australian Schoolboys last December, but he's keen to point out that the achievements of the past will have no bearing on this squad and that the game against the AIS will be an exciting one for everyone involved.
"Playing at this level gives the players a platform for them to launch their careers from," he said. "The success of some of last year's squad in taking the next step showed that this is a stage to progress from.
"However last year's results are history because this is a different squad. We're not worrying about last year, the focus is on what's coming ahead."
England Academy U17 Squad:
Ben Curry (Warrington Wolves)
Connor Farrell (Wigan Warriors)
Connor Spencer (Bradford Bulls)
Danny Yates (St Helens)
Dom Speakman (St Helens)
George Williams (Wigan Warriors)
Greg Richards (St Helens)
Greg Wilde (St Helens)
Jack Cockerham (Bradford Bulls)
Jack Owens (Widnes Vikings)
James Cunningham (Hull FC)
James Saltonstall (Warrington Wolves)
John Bateman (Bradford Bulls)
Jordan Baldwinson (Leeds Rhinos)
Josh Johnson (Huddersfield Giants)
Liam McAvoy (Bradford Bulls)
Mark Percival (St Helens)
Mike Learmonth (Warrington Wolves)
Mike McMeekan (Harlequins RL)
Sam Doherty (Wakefield Trinity Wildcats)
Stevie Ward (Leeds Rhinos)