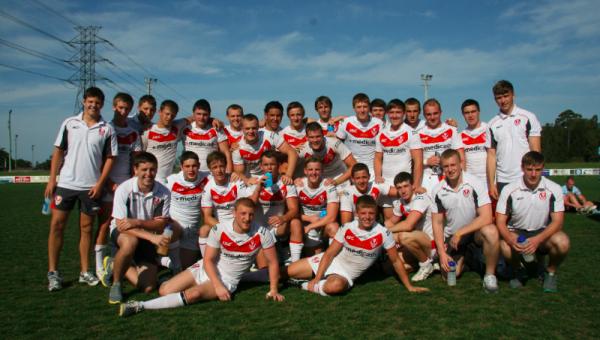 SAINTS Academy continued their successful tour of Australia with a 30-22 win over Cronulla, writes Jason Emery.
Saints scored seven tries to four but only converted two which kept the score close throughout.
After a rugged opening, Saints got on the board first when Corey Lee scored in the corner after a superb flick pass from centre Mark Percival… a pass that Jamie Lyon and Matt Gidley would have been proud of.
At around the 20 minute mark Saints scored again through Nathan Skupski, nicely supplied by a pass from the ever impressive Adam Swift.
But just a couple of minutes later, soft defence allowed the Sharks prop Daniel Byrne to stroll over near the posts.
Saints responded well with a great try right on half time; Danny Yates combined with Adam Swift down the left side which resulted in wing Jamie Tracey scoring the try of the match.
Again the conversion attempt missed which made the half time score 12-6.
The Sharks came out fired up in the second half and levelled the score at 12 all after only two minutes. Saints were looking a little flat and the heat looked to be taking its toll as errors crept in.
And Cronulla made Saints pay for those errors 10 minutes later as they hit the lead for the first time – fullback Sam Rauicava scoring to make it 12-16.
The game then went from one end of the pitch to the other and again Saints hit back with a fortunate try to Dom Speakman after a kick from Yates bounced off two Cronulla players and landed in the in goal area.
Speakman was first to react; converting his try to put the Saints back in front at 18-16.
When Saints controlled the ball they looked like scoring at will and they did just that with a brilliant try by Corey Lee after some nice back line play.
The missed conversion made the score 22-16 but the Sharks wouldn't lie down and quickly levelled up the scores when Greg Wilde messed-up the kick-off allowing good field position for the home team.
And two tackles later they scored to make it 22 all.
With about five minutes to go Saints looked to have wrapped up the game when Speakman threw a cut out pass to Swift who scored in the corner.
The Saints forwards dominated the remainder of the match with Adam Hesketh and Greg Richards driving the team forward backed up well by second rower Clare – the match was sealed when Andre Savelio was too powerful close to the Sharks line and his try capped off a man of the match performance.