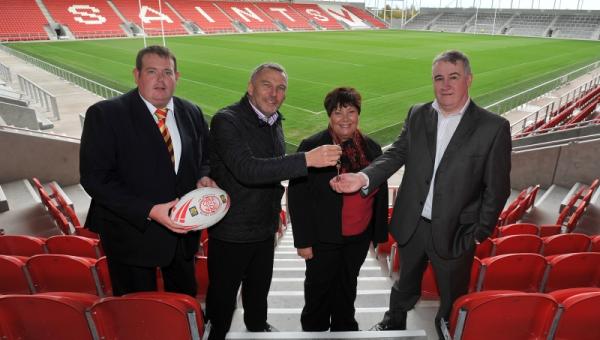 THE Saints have received the keys to its brand new stadium.
Developer Langtree handed over the state-of-the-art 18,000 capacity arena, which will become the club's new home from next season.
The venue, which has taken 14 months to build, is situated on Peasley Cross Lane, to the south of St Helens town centre, and replaces Saints' lifelong home at Knowsley Road.
Saints will now spend the next ten weeks fitting out internal areas of the stadium, including kiosks, restaurants and turnstiles, all decorated in the Club's famous red and white livery.
Langtree appointed Barr to carry out the construction and Arcadis UK to manage the project, which has been delivered on schedule.
The first match at the new stadium is expected to take place in late January, before which a series of structured events will allow supporters, residents, councillors and business leaders to sample the venue.
Saints chairman, Eamonn McManus, said: "A new stadium has been almost ten years in the making and I can't begin to describe how pleased I am that we are finally at this point.
"Langtree has done a great job and it looks fantastic. The council has also been tremendously supportive and without their involvement the stadium would never have been achieved.
"Our supporters can now look forward to a great view from every part of the stadium, whether they are standing or sitting, while also having access to high quality refreshments across a range of facilities.
"We shared our supporters' love of Knowsley Road and it was such an atmospheric place to watch rugby league. Season ticket sales have been excellent so far and we know our supporters will make this stadium just as special and create a daunting place for opposition teams to visit.
"The players and coaching staff are itching to get out there and soak up the unique atmosphere of representing Saints in such a stunning arena."
John Downes, managing director of Langtree, said: "This is a landmark project, not only for Saints, but for the town as a whole, and we are proud to have delivered it to such a high specification.
"Right through from the reception area to the refreshments stands and restaurants, it was crucial to deliver a 21st century rugby league stadium fitting for a club with the scale, support and ambition of Saints.
"We hope the new stadium gives Saints the commercial and sporting platform to move forward and achieve its goals."
St Helens Council leader Marie Rimmer said: "The rugby club first came to the council in 1998 to ask us to work with them to deliver a state of the art stadium.  
"Since then we have been working closely with the club and Langtree to bring this dream to fruition. We invested almost £8m to make the site ready for development, paving the way to today's handover and, of course, the new footbridge linking the town centre to the stadium.  
"Finally we see the results of all our efforts, a brand new state of the art stadium for a world class club.  This is a very proud moment and a historic landmark in the history of our borough."