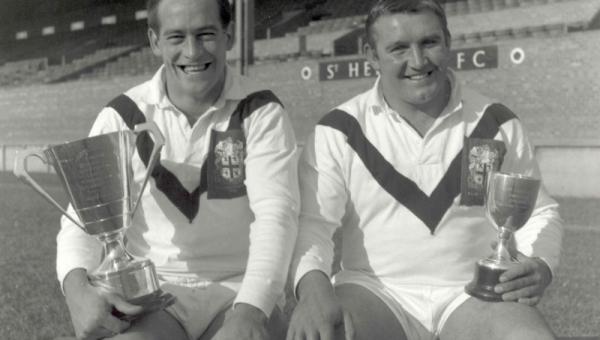 SAD news to report from Australia – Saints legend Len Killeen has died at the age of 72.
Pictured left here with Albert Halsall, Len won major championships in both England and Australia.
He scored 13 points in St. Helens 21-2 Challenge Cup Final win over Wigan on 21 May 1966, at Wembley Stadium in front of 98,356 fans. Just over three years later at the Sydney Cricket Ground, Len played strongly in Balmain's 11-2 Grand Final victory against South Sydney on 20 September 1969.
Born at Uitenhage near Port Elizabeth in South Africa, Len was a highly rated junior with the local Rugby Union team and made his mark in senior rugby, while still only 18 years of age. He was spotted by a St. Helens talent scout and moved to the north of England in late May 1962. He played the first of his 187 matches for St. Helens against Salford on 18 August 1962. In his first English season, the talented winger finished with 25 tries from his 27 games. When he left the club at the end of the 1966/67 English season, he had scored 1,161 points from 115 tries and 408 goals.
In the 1960s, St. Helens were one of the best teams in world Rugby league and Len was a key member. In their 1966 Challenge Cup Final win, Len scored a try and landed five goals from five attempts. After the game he was presented with the Lance Todd trophy as the man of the match. Just a week after their Cup Final win, St. Helens played Halifax, on 21 May, 1966, in the League Championship Final. They won this match 35-12, with Len crossing for three tries and landing six goals. This 1965/66 St. Helens team won a total of four trophies. Alex Murphy played as a centre in the big games with Tommy Bishop as halfback. Broadcaster and dual international, Ray French, was in the St. Helens second row with Cliff Watson one of the props.
Balmain signed him for the 1967 season and he played 11 first grade games in his first year and finished with 93 points. Len's final season with the Tigers was 1971 and when he left the club, he had scored 664 points from 36 tries, 269 goals and nine field goals from his 80 matches. In the Grand Final win over Souths, he landed two goals. His 207 points in the 1969 season was and still is, a Balmain club record. He finished with one season at Penrith, scoring 36 points (two tries and 15 goals) from his eight games.
A member of the St. Helens Hall of Fame, Len was inducted into the Balmain Hall of Fame in 2009 when he and his wife Cathy, returned to Sydney from South Africa, for the 40 year celebration dinner at the SCG, for the 1969 Grand Final winning team.
Len was an accomplished cricketer and also represented South Africa at basketball.
Saints would like to pass on their sympathies to the family and friends of Len.
Many thanks to Barry Ross for the article.