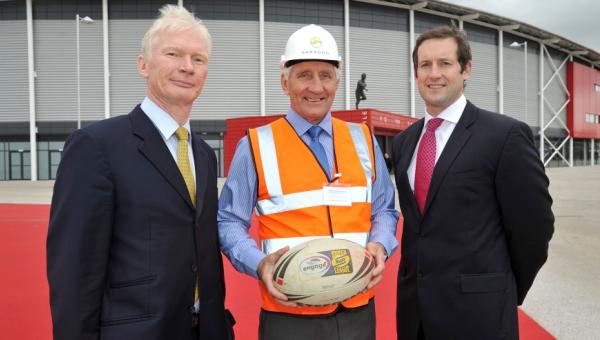 LOCAL company Paragon Construction Group have been appointed to complete the fit-out and finalisation of Saints new stadium.
The £2 million contract, which will see Paragon turn the stadium's newly-built structure into a fully-fitted, serviced and finished facility – complete with Catering Facilities, Bars, Merchandise Shop, Museum and interior decor – will commence this week.
"As a local company we're delighted to be involved in delivering the new stadium, and in delivering Saints' vision to provide the best rugby stadium – of either code – in the country," comments Paragon's Managing Director, Paul Barrow.
St.Helens Chairman, Eamonn McManus, commented: "We chose Paragon because they are a local firm committed to supporting the local economy – they use local suppliers and employ local tradesmen – and as a club that was very much a priority for us. We want the benefits of this stadium to be felt within our own community."
And given the company's links with the famous St.Helens club, the association is entirely apt. For while Paul, who owns and manages the business, was a former player at rivals Warrington RLFC, several other members of the family – as the Barrow name suggests – have enjoyed long standing careers with the Saints.
Highly respected among those past-players is Saints legend, Tony Barrow, now one of Paragon's Senior Construction Manager's, who will be overseeing the company's work at the Saints Stadium.
"I spent many happy years playing at Knowsley Road," Tony recalls, "so to contribute to building the club's new home is tremendous. I'll take great pride in being involved."