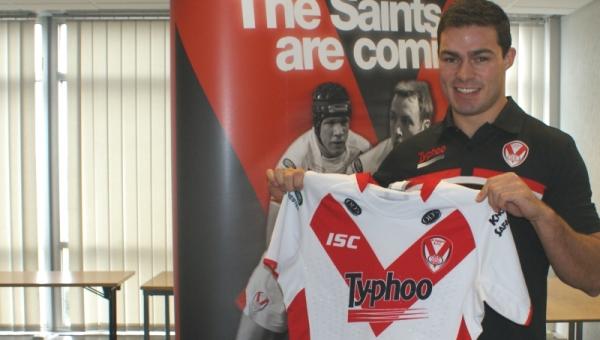 MARK 'Flash' Flanagan has spoken to Saintsrlfc.com about his delight at signing for the club.
The 23-year-old put pen to paper on a two-year deal in July whilst playing for Wests Tigers.
And now he's arrived in the country he took time out to give Saints fans his first interview.
"Obviously, when I was at Wests Tigers I played under Royce Simmons and we got on well," he said. "When the opportunity came up for me to come back to the UK I had a couple of offers but Royce's and the Saints was the one that jumped out. It was really appealing to me.
"In my first season at Wests I didn't expect to play many games but played in all of them, did well and enjoyed it. I had a couple of injuries in my second season and struggled to get back in the side, but did towards the end of the season.
"It was a great experience living and training over there and one I am glad I took. I learnt off the likes of Royce and Tim Sheens as well as the great players at the club. I'm sure it benefitted my game a little bit and I'm sure playing in the NRL did wonders for me. I certainly grew up too as I was living on my own in Sydney."
Flanagan was part of the Tigers side that made it to one game from the Grand Final last season – losing out to New Zealand Warriors.
"It was good, but we fell off in the back end of that game after being 12 to 14 points up. I am a competitive person; I want to win things and trophies and that is why I have come here. We have a team that can win things and are steeped in tradition.
"Saints did really well last season considering the number of injuries they had. I followed them from Australia and you could see a lot of kids in the line-up. The fact they did so well with an inexperienced side is good."
After speaking to Simmons, Mark expects to play in the loose forward and second row roles next season and possibly at hooker – and like us all is excited by the new stadium.
"I have driven past it a few times and it is impressive," he continued. "It is probably the best of either code in the country and I'm sure the Saints people will come and support us and make it unwelcoming for other teams.
"I'm also looking forward to playing Wigan! It should be good. I have some good friends there and enjoyed my time. There's been plenty of banter and I've had a few Tweets from Wigan fans calling me a traitor! It's all in jest though. I have a lot of respect for the Wigan club and those who work and play there."
Flanagan is pictured wearing a polo shirt from Saints new Trainingwear which is due in store soon.