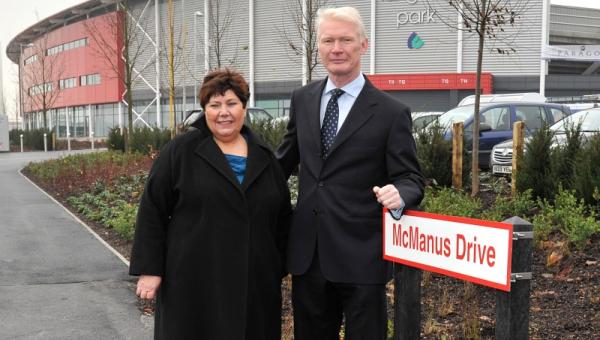 FANS making their way to Saints' new Langtree Park stadium will be in no doubt as to who helped to make it all possible.
Saints Chairman Eamonn McManus has been honoured by having one of the ground's main roads named after him.
Councillor Leader Marie Rimmer suggested the name of the road as a "tribute to the drive and commitment of Eamonn whose foresight and sheer determination was the key force behind the new stadium, Langtree Park."
Speaking at the photocall Councillor Rimmer added: "The new stadium has been a long time arriving but the council worked closely with the club and developers. Eamonn's determination and drive was inspirational and what a more fitting way to show everyone's appreciation."
Eamonn McManus commented: "I feel humbled that the Council have bestowed this honour upon me and the Club. In particular I am glad it's my family name which has been adopted as they, particularly my wife Betty, have been so supportive of my efforts over the last decade.
"More importantly, the Council have been a resolute and determined partner and supporter of the project throughout and I'm as happy for them as for the club that we near the end of this amazing achievement which will benefit the club and the town in equal measure for generations to come."