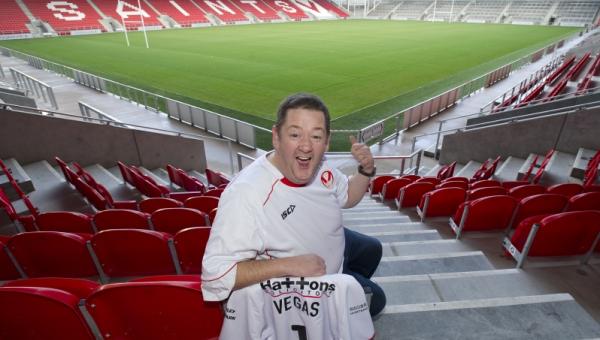 SECURE your place in Saints' history and leave a lasting record of your support!
There are just a couple of days left to get your place in the Wall of Legends.
Shop orders will close at 5pm on Friday and online at midnight as the first installation of the wall begins.
Fans can join the likes of Johnny Vegas in expressing their support, passion and loyalty by ordering a personalised commemorative tile that will be placed in the Wall of Legends.
His tile, which will be part of the wall on the outside of the North Stand at Langtree Park, reads: Johnny Vegas / Fame is fickle / Saints Forever! Welcome Home
Wall tiles will be placed on a first-come, first-served basis around the central St. Helens Red Vee and club logo.
A limited number of special white wall tiles with your personalised inscription will also be placed around the Red Vee itself.
The famous 'V' will be inscribed with the names of the Saints Greatest Ever 17 selected last year, plus other past players to form a centre-piece.
You can also order a single red clay wall tile with two lines of black lettering or a double tile with four lines of gold lettering (ideal for families).
Each line has up to 15 characters per lines and spaces and punctuation count as characters. The lettering is professionally engraved and hand finished with a long lasting red, black or gold infill.
Each tile comes with its own unique 'Certificate of Authenticity' that you can frame or present as a gift. You can also buy a replica of your Tile to take home or place in your office.
To find out more, click here to download a leaflet or click here to buy. You can also order in store at Langtree Park.