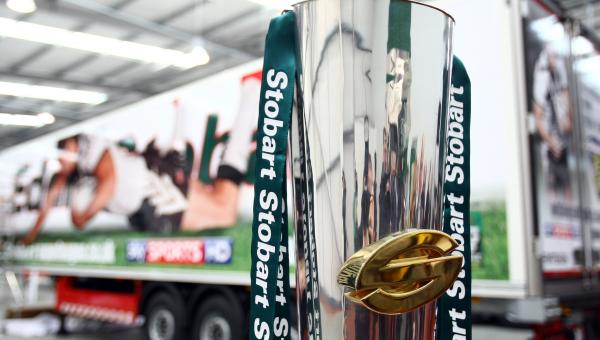 STOBART Group, the UK leader in transport and distribution, has partnered with Super League in a cross-marketing deal to secure title naming rights to Rugby League's elite club competition.
The new agreement, which will run until the end of the 2014 season, will see the competition become the Stobart Super League with the Stobart brand featuring prominently across all 14 clubs.
In a pioneering new partnership focusing on exposure and promoting greater awareness of the game, the newly-designed Stobart Super League artwork will adorn 100 trailers of the company's famous red and green trucks, with an Eddie Stobart vehicle passed, on average, every 4.5 minutes when driving on the UK's major roads.
Each of the 14 clubs will have trailers branded with images of their players and team colours.
Commenting on the new partnership, Super League Chairman Richard Lewis said: "The deal with Stobart is excellent for the Super League clubs and the competition as a whole.
"The Super League clubs turned down other offers and took a strategic view that the brand values of Stobart are closely matched to those of Rugby League.
"The Super League clubs are excited by the multi-layered sponsorship that services the game and the competition on a number of levels in a way never seen before."
Stobart Chief Executive Andrew Tinkler said: "Eddie Stobart has become a Superbrand due to the public exposure of our 2,250 trucks, driving millions of miles each week.
"Now we can help build the Super League brand and promote Rugby League and its brilliant clubs through the exposure our fleet and Superbrand status offers."
He added: "We have a successful history with the game through our relationship with Widnes Vikings, and believe there is a strong affiliation between the Stobart brand and the army of Rugby League fans. We can't wait for the Stobart Super League to get started and for our new branded trailers to hit the road."
The partnership will dovetail alongside a new five-year television contract with leading broadcaster Sky Sports, which will see up to 70 televised games each season, starting with Widnes Vikings versus Wakefield Trinity Wildcats on Friday February 3 2012.
Rugby League continues to be a major feature in the Sky Sports portfolio as the most watched domestic league outside of football, and the fourth most popular televised sport in Britain.