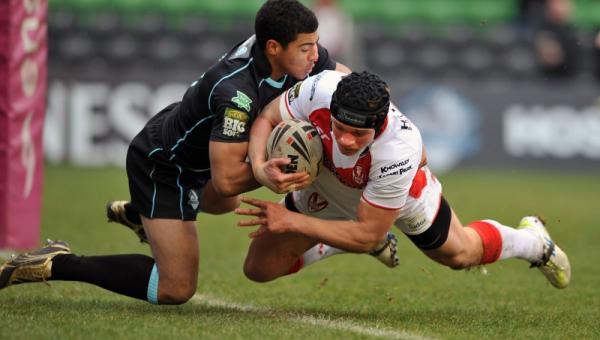 ROYCE Simmons expected a hard battle at London Broncos and got one as Saints came out on top 34-24 at the Stoop on Saturday afternoon.
The lead changed hands several times before James Roby popped up five minutes from time to seal an opening day win.
"It was a hard battle," Simmons said. "They've recruited well in the off season and have two good hookers and a really good pack of forwards. I thought the conditions suited them as they would like to get us into a forward battle. Added to that their ball completion in the first half was sensational as was their kicking game too.
"We had to pull ourselves together to get out of it. Our kicking game wasn't as long as it should have been and that meant they were bringing the ball back because our on field position wasn't great.
"But in the end we got some repeat sets in the second half and that won us the game really."
He continued: "Our play the balls weren't the best and that was because we ran one out a little bit and that meant they could put men in the tackle and slow the ball down. We know we have a lot of work ahead of us.
"I thought Andy Dixon went well – he's worked hard in his game and has brought a lot of extras to his game. He's running a good lines, is bending his back and is straightening people up in his defence.
"The new signings did well and they are continuing to learn the way our team plays. Anthony Laffranchi put in a lot of good carries and like Mark Flanagan does the little things right. They tackle well and don't give away a lot of penalties.
"Lance has been playing hooker in the NRL and has been training at half with us and doing a lot of kicking. Paul Wellens wasn't quite ready today so he moved to full back and he's catching bombs. His adaptability is very valuable to us."