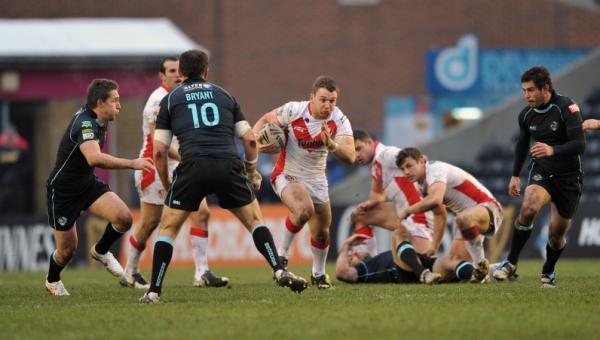 ROYCE Simmons says Saints have to set a high standard if they want Langtree Park to be a fortress.
Speaking ahead of Friday's Grand Opening match against Salford City Reds he expects his side to be 'stingy' on defence and play in a certain way.
"We haven't spoken a lot about the friendly but from that game we know how important it is to set a good standard here," he explained. "We are fully aware other teams will be coming here and will enjoy the facilities and will up their game. The crowd will help us if we turn up ready to play but they aren't going to jump into the field and help us score a try or make a saving tackle.
"We need to play pretty stingy football. That means scoring a few points and being tight in defence and not letting them have much possession. If it's 32-28 every week and some weeks you don't win then it isn't a fortress. We need strong wins. When we do that, we can develop that fortress.
"Salford will be a tough match. I don't think you can take much from the performance in the snow against Castleford but they looked very good in their friendly against Wigan. With a new coach and assistant they have new patterns of how they play and that makes them dangerous.
"To be honest though, at this time of the season I am more worried about what we can do ourselves.
When we get to Round Five or Six then you can have a real look at other clubs as the tracks are drier. It's a case of getting our timing right and things like that."
Tony Puletua is expected to return for Saints on Friday but Michael Shenton, Paul Wellens, Mark Flanagan and Shaun Magennis miss out through injury.
"We aren't going to rush Paul," Simmons added. "An Achilles is an bad injury as if you do it again it could be season ending. We want to make sure as he right as he is very important to us. Flanagan has a chest injury and Jamie a thigh strain. It's early in the year so we won't risk them.
"Ade Gardner will play though as will Chris Flannery who has recovered from his illness that kept him out of the London match. I will also keep a back on the bench too.
"I plan to rotate the players around a bit so it won't be the same side every week in the earlier rounds. Everyone will get a fair bit of football, there's no point someone sitting on the touchline for three weeks."