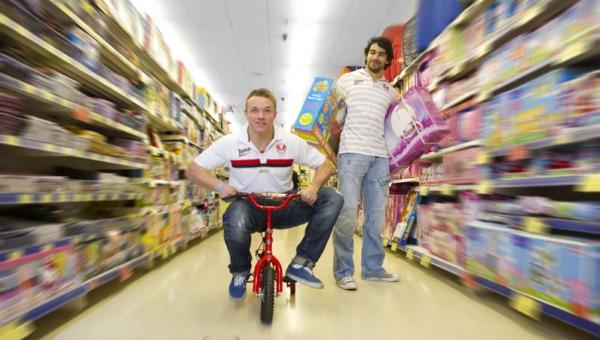 MORE than 100 pupils from Allanson Street Primary School in St Helens helped Saints stars make their mark on the town centre.
The youngsters staged an 'impromptu' flash mob event to help unveil a giant pavement graphic – in the shape of the Club's iconic red vee logo – in Church Square.
With the Club's anthem playing, the pupils echoed the famous lyrics by 'marching in' to the square and performing a choreographed, handclapping routine for hundreds of town centre shoppers.
Saints stars including Paul Wellens, Jamie Foster, Gary Wheeler, Ade Gardner, Jonny Lomax and Paul Clough were among those watching – before setting off on a series of visits to town centre shops.
The event was one of the highlights of the 'Love Saints – Love St Helens'
campaign – which aims to breathe new life into the town centre.
Shops throughout the town centre are already carrying campaign-themed posters and decorations, while specially designed pedestrian signs and smaller floor graphics are visible in many town centre streets.
Cabinet Member for Urban Regeneration and Housing, Councillor Andy Bowden, said: "It was the high point of a unique, fun campaign that's got a really serious message – about supporting our hard-pressed town centre retailers.
"The arrival of St. Helens R.F.C.'s new Langtree Park in the commercial heart of the town provided the springboard for this initiative and we're delighted that our newest, superstar neighbours are doing all they can to help the local economy."
Local retailers visited by the players included Tyrers, Greenhalghs, HCUK, St.Mary's Market, B&M Bargains, Le Frog Bistro, Argos, Marks and Spencer, HMV, BHS, Thorntons, Jones & Hoffman, The Mens Room, Millets, Wilkinsons, OD's, Fleurs Florist and Colours Restaurant.