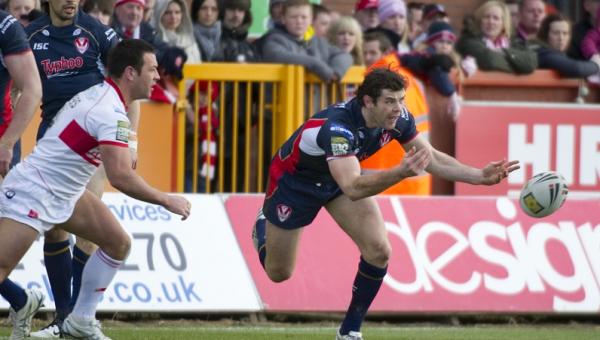 ROYCE Simmons says he was proud to coach Saints in their first game at Langtree Park but now it's all about playing rugby league and getting results.
His charges sit joint top of the league with five points from six and face an unbeaten Catalans this Friday.
After the draw at Hull KR, he says a number of players are carrying knocks and bruises from the clash at Hull KR and he will continue to rotate his side to get the fittest players out on the field.
"Earlier in the week we had a lot of players unable to train because of various muscle injuries and caulks so we ran with a lot of young kids," he said. "I have been rotating my squad to make sure if anyone is carrying a knock they get chance to rest and everyone gets a hit out. If we get four injuries next week we will have players who have had a few hit outs that can come in and do a job for us.
"I don't think it's a bad thing at this time of the season and it isn't something new. Nathan brown did it at Huddersfield last season as did Tony Smith."
Mark Flanagan, Lee Gaskell and Paul Clough have been named in the 19-man squad with Ade Gardner and Josh Perry omitted.
And being fit will be key this Friday as the physical Catalans come to Langtree Park.
"They are a good side aren't they?" Simmons continued. "Last year they had a tremendous season and this year they are stronger. They have good halves, are strong at hooker and have a good full back too. They have strike power on both edges and last week Steve Menzies and David Ferriol were the bench. That shows the depth they have.
"I know Leon [Pryce] is coming here and a lot of people are talking about that but I am more worried about what we do ourselves. We leaked 36 points on Sunday so we need to focus on that. Leaking six tries is out of character for us.
"But we scored one more try, had more offloads, more line breaks and missed less tackles. The only things we lost on were goal kicking and the penalty count. At the end of the day we let in too many points.
"In the first 15 minutes in attack and defence we didn't make a mistake and we led 14-0. Perhaps we thought it was going to be a comfortable win from there but they are too good a side to allow that.
"The players here don't need telling about their performance, they are upset and we have held a good positive meeting led by the senior players.
"We'll see what the reaction is this week."
Tickets for the game that kicks off at 8pm are still on sale. You can buy from the Ticket Office at Langtree Park, by logging on here or via 01744 455 050.
Stat Pack:
Last 10 meetings:
St Helens 40, Catalan Dragons 18 (SLR22, 15/7/11)
Catalan Dragons 16, St Helens 22 (SLR4, 5/3/11)
St Helens 20, Catalan Dragons 30 (SLR21, 9/7/10)
Catalan Dragons 12, St Helens 42 (SLR3, 20/2/10)
St Helens 12, Catalan Dragons 24 (SLR27, 11/9/09)
Catalan Dragons 28, St Helens 32 (SLR13, 16/5/09)
St Helens 42, Catalan Dragons 8 (CCR5, 10/5/09)
St Helens 28, Catalan Dragons 10 (SLR14, 17/5/08)
Catalan Dragons 24, St Helens 10 (SLR6, 15/3/08)
Catalan Dragons 8, St Helens 30 (Challenge Cup Final, 25/8/07)
(at Wembley Stadium)
Super League Summary:
St Helens won 8
Catalan Dragons won 5
St Helens highest score: 53-10 (H, 2007) (also widest margin)
Catalan Dragons highest score: 30-20 (A, 2010) (Widest margin: 21-0, H, 2007)