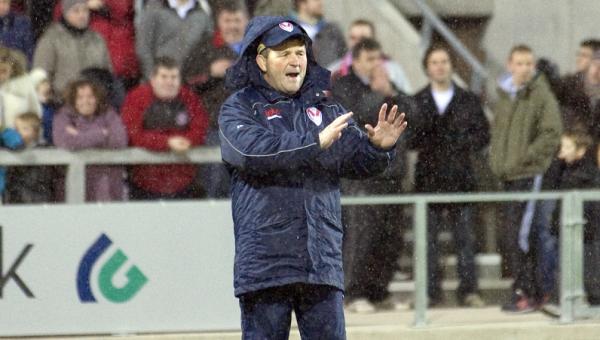 ROYCE Simmons says coaching is the best job in the world but it does give you a few sleepless nights…
Speaking ahead of this weekend's trip to Huddersfield Giants he admits he has been looking at all facets of Saints' game before the Super League clash.
"Rugby League is a pretty full on job and as a coach you are always thinking," he said. "It is the greatest job in the world in terms of going on the field with the boys and trying to make them better players.
"And I love the atmosphere of games – but it is the not the sort of job that lets you sleep too much. You lay awake at night looking at the ceiling thinking of things you can do better – but that is the game we are in but I would not swap it.
"For 50 minutes on Friday we played some really good football but then Catalans threw caution to the wind because they were a lot of points behind and we got a lot of penalties against us. We then got very nervous about giving penalties away, so we were jumping off them too quick.
"You can't tackle running backwards and that is what we were doing. We were getting off them so quick that we could not get square at marker and they were coming at us. We then started trying to survive in defence, rather than attack in defence. We have to stay positive.
"We know our defence hasn't been good though and we have got to fix that up. We did not defend well at Hull KR and against Catalans we built up a pretty good lead against a really good side.
"We face another really good team this Sunday too. We can go out and play the best football we can and still get beaten. Huddersfield are a quick side and have a good kicking game too. We have let a few tries in from kicks and that is something else we have worked on all week.
"On Friday we lost to a side that won 47-20 at Wigan last year and some people have been calling some of my boys this that and the other. It doesn't excuse our defence but sometimes you play good sides that get on a roll and that is hard to stop.
"We have a lot of young boys in the squad and I don't think we are as far off as a lot of people are saying. You have to believe in your players and tell them that and I did so this week. I have got 22 lads in that squad that can do a really good job for me and I am not that far from having another heap of young boys too.
"Last thing I want to be is negative with them and they have to stay positive too. Everyone has to have belief in each other at the club and that is why the club has been so successful for so many years. They believe they can turn things around and get going."
Simmons expects to be able to pick from a near fully-fit squad for Sunday's game with only a couple of doubts. Louie McCarthy-Scarsbrook and Chris Flannery have upper body knocks but Saints have until Friday to announce their squad and will assess their fitness later this week.
Finally, Gareth Ellis announced his intention to return to the UK from Wests Tigers next season – a move which will no doubt interest many clubs.
Royce worked with him at the Aussie club and he admitted he'd like to link up with the second rower once again.
"You would be off your rocker if you did not want to work with him," Simmons said. "There is no coach in Super League who would not want him. He is a true professional – and I am lucky enough to have a lot like him at this club and that is what keeps us so strong in education of the young blokes.
"He has gone over there to prove to himself that he can play – and he has done that and has been Wests Tigers player of the year for each of those years.
"He will be thinking about winning the Grand Final over there too to finish off with."