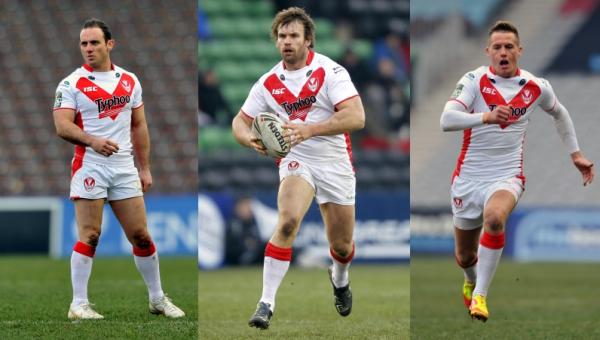 ROYCE Simmons has spoken about the contributions of Lance Hohaia, Jamie Foster and Josh Perry.
All three are set to be involved this Friday as Saints welcome Hull FC to Langtree Park.
Hohaia in particular will step in for the injured James Roby whilst Foster and Perry have been named in the 19 after being omitted last week.
"Lance for Robes? You probably couldn't ask for much better could you?" Royce said. "He played hooker in the NRL Grand Final off the bench and has played a fair bit of football there. For the past few seasons he's switched between nine and one.
"He keeps himself super fit and you saw that on Sunday. He didn't look under any fatigue and he's got a bit of pace around there too.
"Lee Gaskell has played well and I felt it was a little unfair to put Lance straight in at 6. He's played full back and hooker for a number of years. When you play at hooker the opposition is up close in both defence and attack. Then if you change position you could be 15 metres back and that makes a lot of difference.
"The other two boys (Gaskell and Jonny Lomax) have come off a Grand Final game and could have been Grand Final winners. Lance understands the situation, works hard and doesn't complain.
"He will be fantastic for this club and I suppose his only fault is he's too good at too many positions and sometimes you pay the price. He probably hasn't played as many internationals as he should have as a result."
Jamie Foster played in the Under 20s last week and scored five tries plus ten goals in a 68-0 win over Huddersfield.
Simmons said the youngster was left out of the side that played first grade at the Galpharm because of his recent form, but he's shown a great attitude.
"All the players [who didn't play first team] in our full time squad played in the 20s and their attitude and commitment were super. Jamie in particular was very good and his training in the week before was fantastic too.
"If a player isn't playing as well as he can and you leave them, then they can be put back a long way – especially younger players. Some people can think it is hard to leave a player out. Everyone knows Jamie hasn't been on the top of his game recently. It happened at the beginning last year and he worked hard, was back in the side and had a tremendous 25 games. I'm sure he will do the same again.
"Josh Perry is also up for selection this week. He missed a chunk of the off season after the operation on his hamstring. That meant he couldn't get the fitness levels and the time in his legs.
"We thought should he battle on and play a couple of games, or train his backside out and continue work on his leg? Well he's done that. He's worked his backside off for two week and seen the inside of a couple of buckets a few times!
"Perry has a good step, is an aggressive big bloke and can offload the ball. We need him and therefore it makes sense to do what we have done. Anthony Laffranchi has done well too and straightened a few blokes up. It will be good to see both of them starting to rock on."