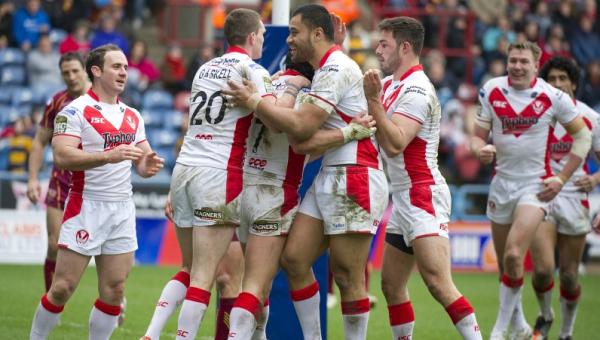 ROYCE Simmons re-iterated his post-Hull FC comments by calling on his players to be ready to play when Saints take on Bradford this Saturday.
Saints slumped to their third defeat in a row last Friday and must pick themselves up for the trip to Odsal.
"Everyone is disappointed, of course they are, but morale is good. The boys are training hard and we know we should be sat on more points and higher up the table," he said. "With a bit of luck we could have won more games, but we haven't.
"We are still very positive we can get some momentum and get going. I think a few of the boys have realised that even though they are training good and their attitudes are good and they got beat in a Grand Final… I think a few thought they could take up and go from where they finished. But individuals have to turn up on game day with a little more aggression. They are training good and are good to go come matchday, but they need more grunt and some controlled aggression in a match. That could make the difference in going close and winning.
"Perhaps we are taking a few little things for granted. Perhaps we are saying we've got to the Grand Final in the last five years and we'll do that again. But you can't be off on your game.
"I don't think the two half backs had their best games last week and the week before that I could point at someone else and the week before that and the week before that. If a couple of blokes each week are not playing the football they can, and at the end of the day that will get you beat. If you play a side that's on it and you have four or five players off it, then you don't win.
"It's always gutting when you lose and last week in particular was the worst I had seen it outside of last year's Grand Final in the dressing room. The whole club and place was down. But now we have a lot of opportunity with things against us to turn it round into a positive thing. We need to get your backs up, believe in what we do and stick together as a unit.
"At the end of the day we have to play better. The effort is there but we have to search for more and the main thing is 17 blokes have to play like they should."
Simmons says Saints will be battered and bruised as they head into the game at Odsal.
James Roby is still recovering from his thigh injury whilst Chris Flannery (groin) and Jonny Lomax (shoulder) are also likely to miss out.
Louie McCarthy-Scarsbrook is also unlikely to feature with an ankle injury and Paul Clough has a bit of muscle damage in the back of his leg.
Mark Flanagan will return though.
Royce continues: "With Jonny being out the obvious choice to partner Lee Gaskell is Gary Wheeler. Nathan Ashe is also going well in the lower grades and he is smart too. He's been playing stand off and half back. So we have some options there.
"Sia Soliola is getting a scan on a knee injury. We don't know about any damage to his face but there seems like there's no structural damage. He's alright but of course I can't comment on the case. He didn't come off with knee injury on Friday, he was tired, but reported his knee was playing up. We are hoping it's only a week but the scan will tell us more.
"He's been playing well; in fact all the forwards played well last week but we didn't capitalise on what they did."