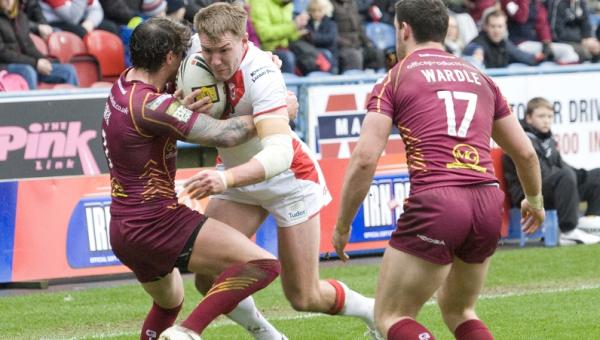 MICHAEL Shenton believes there is enough confidence in the camp to turn things around but Saints must realise they are making a "simple game too complicated".
The 25-year-old centre, who signed from Castleford Tigers at the end of the 2010 campaign, says the Club deserves better beginning this weekend.
"Rugby players do take it to heart when they're not playing well and things are tough," he said. "But you need to look at yourself and ask 'what can I be doing better to get performances'. Everyone is trying hard, the coaches, the staff, right through the club but we know there are a few things on the field that are costing us.
"We had a half-decent season last year and we know what works for us. There are a lot of young players learning about how to prepare for games – that took me years to learn – and they will get better. For us to move on we need to stick to what we know best.
"It's important the guys with experience look after these young fellas and help them progress. To progress and move forward sometimes you have to make mistakes. I know the fans are upset and we're working very hard. If there's one positive we can take from all this is when we get out of it the bond in the camp will be really tight.
"We can't look past Bradford this Saturday and we are saying let's start our season again this weekend. Let's get a roll on, produce some quality performances and let's get tighter as a group. Hopefully, we can get tighter from this and this can bond us for the rest of the year.
"We did the same last season after a few bad defeats we know we can turn it around."
Despite some good performances, Shenny was surprisingly omitted from the England squad last week.
But he says all his focus is on St Helens for now.
"If course I was disappointed," he said, "it is never nice to be dropped from something. But I just have to concentrate on what I do best, get consistency and get hold of the ball at little more too. Saints are the most important thing for me at the moment; England is a way off and is in the back of my mind.
"You feel sad when you are dropped. It's great to be involved in those Test matches, but hopefully I can be a better player from it."
Shenton will make his 200th career game on Saturday.