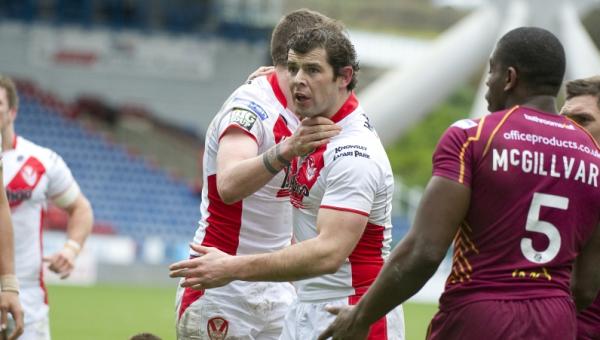 PAUL Wellens has spoken of his surprise at recent events and admits he is facing a big challenge as captain.
The 32-year-old has been through a number of coaching changes in his career and says the best thing to do is move forward.
"I was a little surprised at what happened," he said, "but it is not the first time in my career. It is always sad when a coach moves on – especially someone like Royce who is a really nice fella. Those who have met him will tell you what a great bloke he is, so that part is sad.
"But from a player's perspective now we need to move forward. We have a tough game at the weekend and that is where we have to focus our energies.
"There is a lot of respect for Keiron Cunningham and Mike Rush; they have both been at the club a long time so when there is a bit of turmoil we have two guys who can quickly bring some stability back to things.
"But I know I am facing a challenge that not many St Helens captains have faced for quite some time. It is on record that this is our worst run of form for 23 years – but it's a challenge we can rise to. We have a tough run of games and I think that is exactly what we need at this moment in time.
"We have lost games this year but not been thumped in any, we have been competitive in them all. We have not finished them as we should have done and come up with too many errors. That is something we will have to get out of our game. You will be surprised that the boys are still pretty confident and buoyant and I believe we will get a good response from the players at the weekend."
He continued: "Rugby League is a simple game that can be over complicated, for us it is about getting back to basics. If we do that we can start to build our performances.
"Confidence is a big issue when you lose games and you become anxious and try to rush things and lose composure. A few of our young players have come up with uncharacteristic mistakes which will happen every now and then.
"The young lads have had a lot of press over the last 12 months about how well they have done – and rightly so because they are quality young players. But sometimes that can push them on a little bit further than where they are. Perhaps when things like this happen it is not a bad thing because they can look at their game, assess where they need to get better and then move forward.
"We have to use this change as a clean slate and ultimately start our season again. We will continue to work hard – I believe this squad can be successful despite the poor start to the season. I think we can compete for the Challenge Cup and win a Grand Final. I have that belief and I am sure the rest of the guys can too."