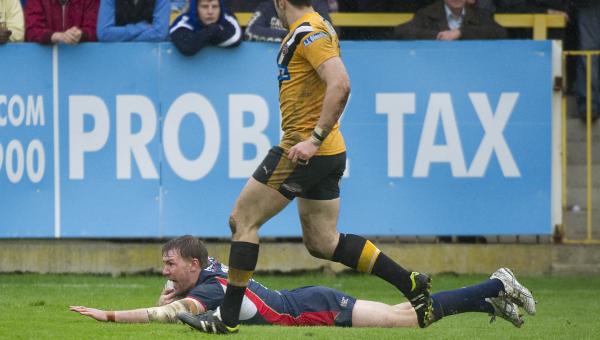 SAINTS displayed real mettle and courage as they toughed it out to beat Castleford Tigers 18-12 at the Probiz Coliseum.
Defensively they were outstanding, withstanding repeat set after set on their own line and battling the loss of three key players.
Ade Gardner (knee), Tony Puletua (shoulder) and Gary Wheeler (hamstring) all left the field leaving Saints short on numbers and interchanges.
But their teammates showed real pride to batten down the hatches, stave off five repeat sets in the last three minutes, and secure two points.
Up until then, the conditions hardly encouraged free flowing rugby – and that was reflected in the number of knock ons and handling errors.
Saints forged ahead when Ade Gardner clocked his 168th in the Red Vee and a typical bulldozing run from Sia Soliola  sandwiched Brett Ferris' reply.
The second half didn't fare much better in terms of entertainment but Saints stuck at it and Francis Meli intercepted to go 90 yards and stretch the lead.
James Roby the unlikeliest 'converter' to take it to 18-6 before Ferris grabbed his second.
Saints then produced that wonderful never say die defence to grab the win.
After losing the derby on Good Friday Saints needed the experience of Paul Wellens and Anthony Laffranchi in the squad and the direction of Gary Wheeler to try and overcome a tricky Castleford.
The Tigers were down on numbers but with Josh Atkinson on debut and a buoyant home crowd it was never going to be easy.
Roby kicked a 40/20 on Saints first set and from the scrum Lance Hohaia was just caught right on the try-line.
Castleford shored up the defence and then probed into their opponent's 20; but Saints D was on top once again.
On 12 minutes, Hohaia blasted down the field and both Sia Soliola and Ade Gardner had good chances to get Saints on the board.
But as the half wore on, the first score was always going to be pretty crucial – and it came from Saints.
Roby and Hohaia put their charges in great field position and when Wheeler poked his head through, Ade Gardner went over.
Wheeler's conversion off target.
Tigers replied with a great line ball that was finished off by Brett Ferris – and goal by Kirk Dixon to put them two to the good.
The lead was short-lived though as on Saints' next set Sia Soliola ploughed over after great work from James Roby.
Wheeler again wide with the conversion attempt.
Saints then should have increased their lead further. Wheeler broke the Cas line with great footwork and found Hohaia on his inside.
He then took it on, got it to Michael Shenton but the Tigers' defence had scrambled and the chance was gone.
Cas then almost turned that defence into attack. On the back of three penalties they were camped on Saints line, but once again the 'Red Vee' rearguard was too strong.
The second half began with a Castleford knock on, a Gary Wheeler chip to the corner and a take in goal from Josh Atkinson.
But Ade Gardner came off worse as he jumped for the ball and was stretchered off to join TP on the sidelines.
Another error then led to Saints next try. Castleford lost the ball in their own zone, Louie McCarthy-Scarsbrook scooped it up, fed Shenton and he did the business.
Wheeler again missing with the extras.
The excellent Josh Jones produced a fine chase to stop a hacked ahead ball as the game approached the final quarter.
Once again though Saints made it difficult for themselves with a number of penalties as they began to tire.
And it took a herculean effort from Francis Meli to pluck a Cas pass out of mid-air and race 90 yards; Roby tagging on the extras.
Straightaway Saints were on the back foot again as the Tigers forced three repeat sets on their line.
The pressure told too, Brett Ferris grabbing his second – again thanks to a fine 'line' ball.
Dixon tagging on the two.
Cas forced a double drop out in the final stages as Saints tired even further and were handed another one with a penalty. The ball then went into touch and the Tigers were given another set – somewhat bizarrely after the ball came off a home player.
That was their fifth set in a row but Saints defended it to come away from their line and seal the win.
Match Summary:
Tigers:
Tries: Ferris (2)
Goals: Dixon (2 from 2)
Saints:
Tries: Gardner, Soliola, Shenton, Meli
Goals: Wheeler (0 from 3). Roby (1 from 1)
Penalties:
Tigers: 11
Saints: 6
HT: 8-6
FT: 18-12
REF: Richard Silverwood
ATT: 6492
Teams:
Tigers:
4. Kirk Dixon; 29. Ben Johnson, 11. Brett Ferres, 25. Jordan Thompson, 5. Josh Griffin; 23. Ryan McGoldrick, 15. Adam Milner; 12. Jonathan Walker, 16. Ryan Hudson, 24. Steve Nash, 17. Lee Mitchell, 21. Oliver Holmes, 27. John Davies.
Subs: 8. Jake Emmitt, 13. Steve Snitch, 14. Stuart Jones, 28. James Grehan.
Saints:
1. Paul Wellens; 2. Ade Gardner, 3. Michael Shenton, 26. Josh Jones, 5. Francis Meli; 17. Gary Wheeler, 6. Lance Hohaia; 8. Josh Perry, 9. James Roby, 14. Anthony Laffranchi, 11. Tony Puletua, 4. Sia Soliola, 13. Chris Flannery.
Subs: 10. Louie McCarthy-Scarsbrook, 15. Mark Flanagan, 16. Paul Clough, 18. Shaun Magennis.