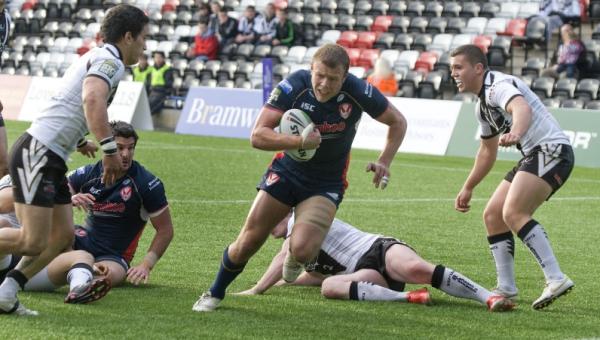 MIKE Rush has given his thoughts ahead of this week's Stobart Super League clash with Widnes Vikings.
The Acting Head Coach says he is expecting a tough match because Saints effectively gave their opponents a helping hand in Saturday's cup tie.
"It will be awkward facing the same team again as we helped them in the last nine minutes last weekend," he said. "For 71 minutes we were in control and then they ran over us. We were inches away from scoring on a couple of occasions and we should have put the game to bed early.
"We've had a couple of days to gather our thoughts and we will come back refreshed.
"We want to perform well at home as good performances breed confidence. I want us to get better each week as that gives ourselves the best shot of winning something."
Rush says none of his injured players will return this week although Tommy Makinson has an outside chance.
"We're going to give Gary Wheeler as long as we can to recover," Rush continued. "He jumped in against Castleford as we were down on numbers and in hindsight it was probably too early. He was still one of our better players on that day and made a number of line breaks. He's a great talent and we have to manage him properly.
"TPs shoulder injury is settling down and he is due to see a specialist during the course of this week. Only then will we know if it's a rehab issue or there are other options. It's not season ending though.
"Ade Gardner has had positive news with his knee, but he won't be back in the next week or two. That is the same with Jon Wilkin. I won't be putting any dates on it though as that puts the physios and players under pressure.
"Josh Perry has a leg injury and may be out for a couple of games.
"I know people are asking about Lee Gaskell and Jamie Foster. After the Bradford game, Jamie held his hand up and we decided to put Francis Meli back on the wing for the Leeds match. That was the right thing to do and Franny has played well ever since.
"Jamie was injured for the Wigan game and therefore wasn't in contention for our trip to Castleford. Adam Swift had been 19th man for a couple of weeks so it was only fair to give him a try and it creates competition throughout the side. Gaskey was injured in the Wigan under 20s match and couldn't play at Cas.
"Both know they have to work hard and they will."
You can listen to Mike Rush, Adam Swift, Josh Jones and the Vikings' Chris Dean on the latest Saintsrlfc.com Podcast.