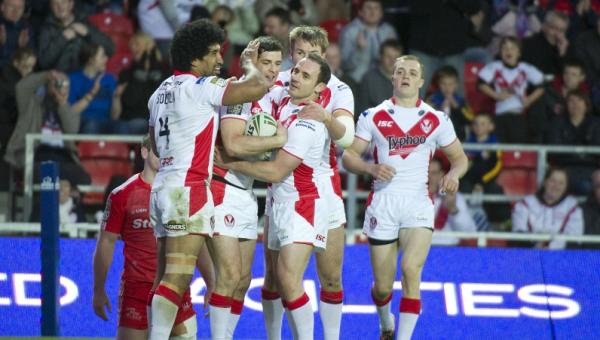 MIKE Rush has indicated that no players will be "rested" and miss out on this Friday's Challenge Cup Fifth Round tie with Oldham.
Saints Acting Head Coach said he wants his side to continue to build form and momentum and that means fans will see the strongest possible team take to the field at Langtree Park.
"I'm a big believer if you make changes for changes sake you can lose momentum," he said. "We have tough games coming up such as Wakefield and possibly a cup quarter final. We don't want to put ourselves under pressure by taking short cuts in the short term.
"That said, Tommy Makinson is close to a return and Gary Wheeler and Jon Wilkin aren't far off. Tony Puletua and Ade Gardner are coming along nicely. Josh Perry has a leg injury and we probably wouldn't take the risk of playing him with young Carl Forster playing as well as he did the weekend. Lee Gaskell and Jamie Foster are in with a chance too.
"We've not had many times this season when we've played 1, 6, 7, and 9 together so you have to take the opportunity when you can. No one wants to miss out; all are raring to go and fighting fit.
"Adam Swift will miss out through and for obvious reasons. It's Harold Swift MBE's funeral in the afternoon. Rugby is great but there are times when it has to take second place to your family and we will be supporting him."
Mike says Saints have done their homework on Oldham and will be approaching the match in the same way as they do any other.
"If you switch off against any team you will get punished. We're not resting on any laurels because we know we have no right to win this game. We are a confident team that believes in our ability. We haven't become a bad side; we are no mugs, we have confidence and we will still be there come the end of the season putting in a strong challenge.
"We played Oldham at the beginning of the year at Whitebank and they beat us. We had people watch them at the weekend and we know something about them. Their forwards are very experienced and Paul Smith and Paul Noone have played Super League.
"Jamie Dallimore has a good kicking game and he will need some kick pressure.
"We're not going into the match blind, we know what we need to do and they will get the respect they deserve."
Tickets for the match are still on sale and can be bought from the Ticket Office at Langtree Park, by calling 01744 455052 or by logging on here.
Adults can gain entry for just £12 (terracing) and cash turnstiles will be open on the night.