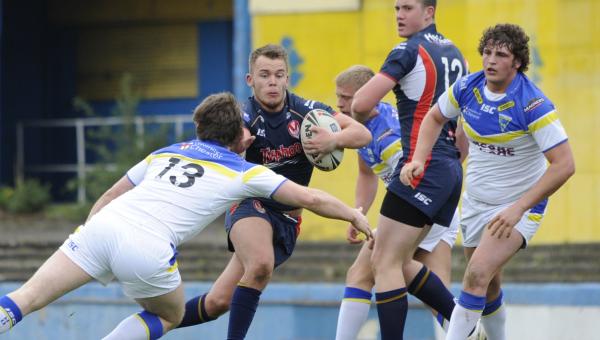 SAINTS U20s recorded their second win of the season over their Wigan counterparts.
At Orrell, they scored four tries to beat the Warriors 20-10.
Jaydon Sandford got Saints off to a flying start, going over after just four minutes when a move from Lee Gaskell, Nathan Ashe and Mark Percival caught Ryan King coming too far in.
From here, Wigan struggled to contain the elusive running of Nathan Ashe and Lee Gaskell, with Joe Greenwood making tough yards up the middle.
Wigan almost hit back after 10 minutes but Scott Leatherbarrow's pass to put Rhodri Lloyd through a gap was forward and Saints wasted little time in extending their lead as Jack Murphy fumbled a low and hard kick which gave Saints a platform to make a try for Mark Percival possible – Wigan again being caught on the same side after a similar move, this time involving Danny Yates and Lee Gaskell.
Saints struggled for a foothold after they score but they did go further ahead when Scott Hale try steamrolled onto a short pass. Jamie Foster's second goal of the night making it 16-0
Ben Flower pulled one back before the end of the half and James Greenwood added another in the second half.
But Saints took the chance to extend their lead on the hour with Percival's second try and the ten point gap was too much for Wigan to overcome.
Thank you to Tom McCooey for help with the report.
Match Summary:
Wigan:
Tries: Flower, Greenwood
Goals: Murphy

Saints:
Tries: Sandford, Percival 2, Hale
Goals: Foster 2
Half Time: 16-4
Teams:
Wigan:
Jack Murphy, Joe Burgess, John O'Donnell, Shae Lyon Fraser, Ryan King, Ryan Hampshire, Scott Leatherbarrow, Dom Crosby, Logan Tomkins, Tom Spencer, Connor Farrell, Rhodri Lloyd, Ben Flower
Subs: Liam Carberry, James Greenwood, Drew Johnson, Matty Crow.
Saints:
Nathan Ashe, Jaydon Sandford, Mark Percival, Adam Swift, Jamie Foster, Lee Gaskell, Danny Yates, Jordan Hand, Dom Speakman (pictured), Anthony Walker, Scott Hale, Joe Greenwood, Danny Jones
Subs: Lewis Foster, James Tilley, Alex Clare, Joe Bate.