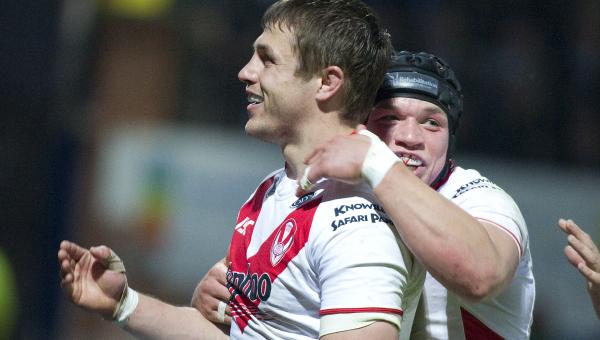 MONDAY night Stobart Super League action got off to a sensational start last night with a great Grand Final re-match between Leeds Rhinos and St Helens.
And in one of the most exciting games of the year, the Sky Sports camera were on hand to capture a memorable 31-18 win by St Helens, who turned the tables on the defending champions in stunning style.
The match made for the perfect opener to the biggest week of the 2012 Stobart Super League season, which continues on Saturday in the majestic surroundings of Etihad Stadium in Manchester, which hosts Magic Weekend.
RFL Chief Executive Nigel Wood believes last night saw the start of another hugely successful feature for the Stobart Super League and feels live Monday night action will see the competition's profile scale new heights.
"We saw a terrific spectacle last night, a match of the highest quality played out in front of a sizeable and enthusiastic crowd and what is likely to be a record-breaking audience live on Sky Sports," said Wood.
"No-one can fail to have been impressed by the skill and athleticism of the players from both teams, who were a real credit to their clubs and the competition.
"I thought the innovative coverage by Sky Sports was excellent and perfectly captured what Super League action is all about.
"Monday nights on Sky Sports is an iconic slot for televised sport and Super League has shown itself more than able to top the bill.
"Last night will have introduced a whole new television audience to the thrills and spills of the country's most exciting team sport and I'm sure all of them will be back for more.
"With seven Super League matches live on Sky Sports over Magic Weekend, this is a fantastic week for Rugby League fans across the UK."
Neville Smith Executive Producer for Rugby League on Sky Sports said: "It was a great match last night and a good start to our coverage of Super League on Monday nights.
"The Monday night slot is an iconic one in sports broadcasting, and we have another eight Super League matches to show on Monday nights through the summer including Wigan v Widnes and the Hull derby.
"We hope they can all be exciting games that people tune in to watch whether they're already fans of the game or new to Rugby League and looking for something to watch on Monday nights."