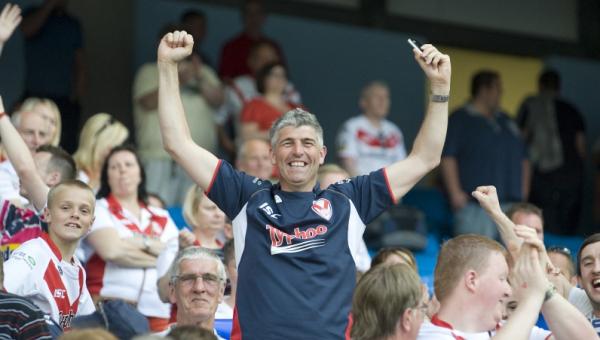 THE sixth Magic Weekend proved to be the most magical of all with a record-breaking attendance of 63,716 turning out to see two days of spectacular Stobart Super League action at the Etihad Stadium, Manchester.
The superbly-appointed home of newly-crowned Premier League champions Manchester City also drew a new event-high crowd of 32,953 on Sunday, when fans were treated to four matches of the highest calibre.
Sunday's attendance followed on from a crowd of 30,763 on Saturday, which featured three entertaining games, the last a stirring Hull derby which kept everyone inside the Etihad Stadium captivated until the very end.
Super League Chief Executive Nigel Wood said Magic Weekend 2012 was an event the whole sport should feel proud of and has thanked Rugby League fans for the part they played in the two-day spectacular.
"I think Magic Weekend 2012 encapsulated all that is great about Rugby League: superb athletes delivering skilful and exciting entertainment to enthusiastic crowds in a terrific stadium," said Wood.
"We witnessed some wonderful action out on the pitch and the players deserve rich praise for the high standard of play in the glorious sunshine.
"I would also like to thank the fans who turned out in their tens of thousands to create a carnival atmosphere both inside and outside the Etihad Stadium.
"Once again our supporters showed what Rugby League is all about and I'm sure they will turn out in even greater numbers over the coming months as the Super League season builds towards the Grand Final at Old Trafford in October."
The de-brief into the sixth Magic Weekend will begin on Monday and will involve full consultation with all stakeholders, including Manchester City FC and Manchester Council, who were very supportive of the event.
"Manchester and Magic Weekend made for a very successful combination and clearly we will be exploring the opportunity to build on what we experienced over the last couple of days," added Wood.