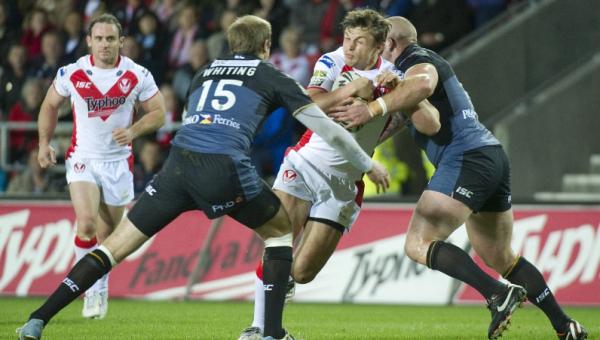 MIKE Rush says Sunday's match at Hull FC is massive if Saints have designs on climbing the table.
Although they have won eight of their last 11 since he and Keiron Cunningham took over the coaching role, the club still lies sixth in Super League.
But with all the sides above playing each other in the next few weeks, there is a real opportunity to get into the top four and beyond.
"We have no doubts in the team going forward, but we do understand why some fans would have following the loss to Wigan," he said. "We are still confident in what we can do. Last year against Wigan we drew at Millennium Magic, lost on Good Friday and went out of the Challenge Cup – but we still got to a Grand Final going through them twice. You can't predict what will happen in October now. It is now about reacting well to what happened on Sunday.
"Importantly for me too it's about how far we've come since we took over. It is disappointing we are out of the Challenge Cup but we can't dwell on that. On Sunday we lost two points by losing to Wigan. It hurts a lot and the lads are gutted, but there is still an opportunity to get enough points to get in the four and higher.
"We need to put a run of games together like we have done before and we have the personnel to do that. Every player has a dip in form but with the Salary Cap the way it is you can't have two readymade replacements when somebody has that dip. Part of your job as coach is to stand by people and help them work on their game and regain that form.
"And at Leeds, everyone was really really good and getting close to that potential form but we weren't against Wigan. We'll get our chance against them later on in the year and there are a lot of games to go before then.
"Now we have to face a tough Hull side and show what we can do. It is a huge game for us."
Ade Gardner is ruled out of the trip to the KC Stadium with a knee injury that isn't a reoccurrence of his recent problem. Shaun Magennis is also out too after being banned for three matches for fighting in Sunday's game.
Anthony Laffranchi and Mark Flanagan are also doubtful but it is too early in the week to definitively say whether they will travel.
"We might make changes but at this early stages that is more dependent on injuries," Rush continued. "We can't make five or six on the basis of one game as that won't help us going forward. But there will be some changes due to injuries.
"Tommy Makinson has recovered from the incident at Leeds and will throw his hat in as will Josh Jones. He hasn't been injured but has played seven games at first grade.
"People need to remember he is only 19 and needed to sit out for a bit."