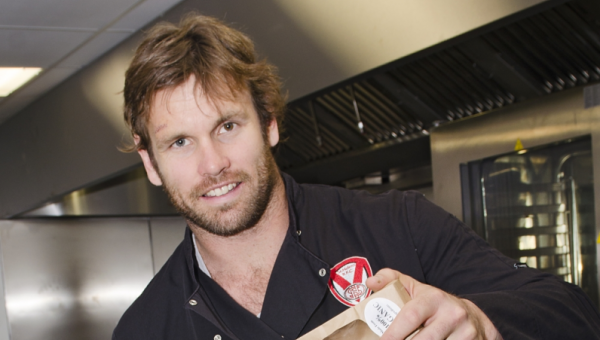 EMC, part of the Spotless International Services Division, have signed up St Helens prop Josh Perry to represent the company for the forthcoming season.
EMC provide all the catering for Saints Events at Langtree Park.
The 31-year-old Australian International is clearly pleased to be involved, and in a recent visit to meet the EMC chefs, was even able to offer some advice.
However, far from tips on the traditional Australian Barbecue, Perry and his wife actually make their own muesli to a "secret" 50 year old family recipe. "I have always been interested in food," commented Perry, "so it was a great opportunity for me to come and meet the EMC chefs to understand what they do at Saints, to talk recipes, nutrition and so on."
EMC have looked after the catering at the 18,000 seat Langtree Park since 2010, and Phil Batty, Director of EMC, said: "As part of our partnership with Saints, we couldn't be happier to sponsor Josh for the coming season. As Spotless is an Australian Company we are delighted to have one of Australia's finest internationals representing one of our UK Brands."
Spotless, through their Cleanevent brand, also provide the day to day and post match stadium cleaning solution at St Helens. "Spotless are always looking to provide clients with an integrated service solution", said Batty, "in order to provide the most environmentally efficient and sustainable service solution."