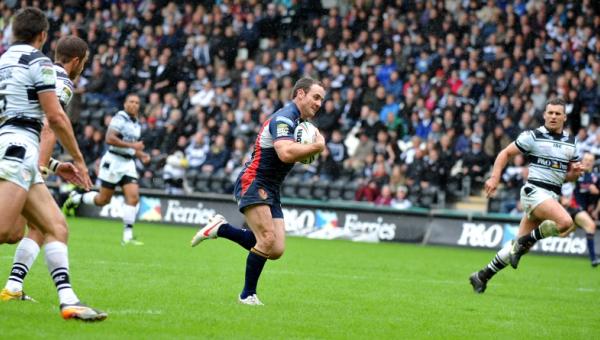 TOMMY Makinson's penalty in the final minute handed Saints a deserved 18-18 draw at Hull FC.
The 20-year-old cancelled out Danny Tickle's two pointer right at the death to earn the share of the spoils in a controversial encounter.
The referee took centre stage with a slanted penalty count and a decision as the hooter went which cost Saints the chance of the win.
With less than 10 seconds on the clock Hull knocked on in their own half, Saints picked up and with an overlap could have took the points.
But it was bizarrely called back and the chance was gone.
Before then, inspired by wonderful defending from Tommy Makinson and Josh Jones Saints led 12-6 at half time.
With Thierry Alibert at his erratic best Mike Rush's men spent most of the half repelling borders but were more than up to the task.
They led 12-0 thanks to great tries from Adam Swift – who came in for Francis Meli – and Lance Hohaia.
Richard Whiting pulled one back after another questionable call and then the home side had a number of chances to pierce the line.
In the second half, that defence was finally breached after more than 30 tackles in a row before Jon Wilkin restored the advantage.
Danny Tickle profited from an error in the middle of the field and then tagged a penalty to put his side ahead.
But Makinson's kick gave Saints a point – and it probably should have been two.
The end of the game was in stark contrast to the sedate opening stages.
Saints had the early pressure with a drop out and a couple of strong runs from Tony Puletua – on his 100th game for the club – Josh Jones and Lance Hohaia.
On 10 minutes Hull had their first foray into the Saints half but Paul Wellens was more than up to the chip through.
Another couple of sets later the home side had another chance on the Saints' line but Matthew Russell just couldn't keep hold of the ball.
Saints made them pay in somewhat controversial circumstances. A high ball went up from Jonny Lomax and whilst the referee initially gave the penalty for a hit in the air from Sia Soliola, he then pulled Hull back for interference on Paul Wellens.
Taking full advantage, the ball was shifted left and Swift danced around four defenders to get down.
Tommy Makinson – in for the injured Ade Gardner – with the extras.
And it instantly got better as from the restart, Saints broke from within their own half. Michael Shenton drew the defence to find Soliola who duly found Lance Hohaia in support.
Makinson with his second conversion.
Hull hit back on 23 minutes when repeat sets finally told – Richard Whiting profiting from a harsh high tackle call on Jon Wilkin.
It could have been level moments later but great last gasp defending saw Saints keep their line intact.
But with less than three minutes to go Swift was dragged into touch seconds after he clearly was tackled. Saints were annoyed and gave away a penalty for dissent and just managed to defend their line on the resultant set.
A further drop out followed, but Saints did enough to go in 12-6 up at half time – and the reaction from Paul Wellens and his charges showed just how much it meant.
A repeat 40 was needed but an intercept in the second minute put them right on the back foot. Thankfully, Saints defence did enough once again.
On 47 minutes, a mistake was nearly punished. Tommy Makinson lost the ball in midfield and he had his teammates to thank for defending the line and getting away with a drop out.
Two drop outs later though that defence finally cracked, again in controversial circumstances. Richard Horne bulldozed over and although he was held up the try was given.
With all that pressure no one expected what came next. Saints first foray into Hull's half saw Hohaia link up with Lomax for a great Wilkin try.
Danny Tickle reduced the arrears with a try down the short side – which he converted – to make it level with less than 15 to go.
More mistakes gave Hull more pressure and a penalty which Tickle duly notched over.
A Wilkin high ball bounced kindly for the chasers but Hull won a penalty and then seconds later the home side clearly knocked on in their half and won the scrum!
But Tommy Makinson tagged on a penalty with seconds to go to level it up.
It was very nearly a glorious end. Saints won the ball from a short kick off and went at Hull for the winner.
And they looked to have broken through when Hull knocked on.
Saints scooped up the ball and were set to exploit on overlap – but the referee pulled it back for the knock on much to the dismay of the away support and players.
It was a sad end to a pulsating match and one Saints probably should have won.
Match Summary:
Hull:
Tries: Whiting, Horne, Tickle
Goals: Tickle (3 from 4)
Saints:
Tries: Swift, Hohaia, Wilkin
Goals: Makinson (3 from 4)
Penalties:
Hull: 11
Saints: 6
HT: 12-6
FT: 18-18
REF: Thierry Alibert
ATT: 11,727
Teams:
Hull FC:
36. Matthew Russell; 2. Will Sharp, 19. Jordan Turner, 23. Ben Crooks, 5. Tom Briscoe; 6. Richard Horne, 7. Brett Seymour; 17. Sam Moa, 9. Danny Houghton, 10. Andy Lynch, 11. Willie Manu, 12. Danny Tickle, 13. Joe Westerman.
Subs: 15. Richard Whiting, 16. Eamon O'Carroll, 22. Martin Aspinwall, 34. Jay Pitts.
Saints:
1. Paul Wellens; 21. Tommy Makinson, 3. Michael Shenton, 26. Josh Jones, 34. Adam Swift; 6. Lance Hohaia, 7. Jonny Lomax; 8. Josh Perry, 9. James Roby, 11. Tony Puletua, 4. Sia Soliola, 13. Chris Flannery, 12. Jon Wilkin.
Subs: 10. Louie McCarthy-Scarsbrook, 15. Mark Flanagan, 16. Paul Clough, 20. Lee Gaskell.