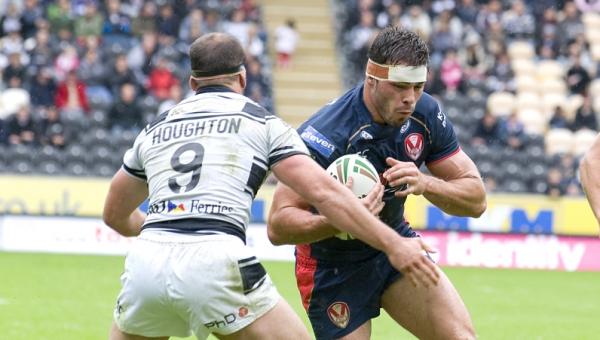 ENGLAND Knights have named a revised 19-man squad for Saturday's game against Ireland at Langtree Park, St Helens (4.15pm).
The Knights take on Ireland prior to England's game against the Exiles at 6.45pm and Knights coach Kieron Purtill is confident that his charges can extend their 100 per cent record following victories over France and Cumbria in 2011.
"I'm really pleased with the strength of players I have available," said Purtill. "There's a lot of exciting talent in the squad but there are also a lot of talented players who have missed out and I think that bodes well for the future of England.
"Saturday's game gives us an opportunity to watch the players first hand and see how they can adapt to being part of an England environment with different systems that what they are used to on a weekly basis at club level.
"We're going to be going up against an enthusiastic Ireland side who'll be going out there determined to prove their critics wrong. They always play with a lot of pride in their shirt and they will be very competitive.
"Every team lifts their game when they play England and they have a lot of players who are making their first appearance in an international environment so they'll be determined to make the most of that opportunity. That means we can't take anything for granted.
"I'll be looking for every player to put in a good performance as we build towards the European Cup at the end of the season and Ireland are a vital part of our preparation for that.
"All our players are playing for a place in the Knights squad but they're also playing to showcase their talents to Steve McNamara and put their case forward for selection in the ETS squad."
England Knights:
Jodie Broughton, Chris Clarkson, Paul Clough, Mike Cooper, Rhys Evans, Liam Farrell, Dale Ferguson, Mark Flanagan, Lee Gaskell, Zak Hardaker, Josh Hodgson, Ben Jones-Bishop, Shaun Lunt, Jermaine McGillvary, Stefan Ratchford, Chris Riley, Matty Smith, Scott Taylor, Gary Wheeler.
Tickets for the England Knights v Ireland game at Langtree Park, St Helens, on Saturday June 16 (4.15pm) cost from £18 (£9 concessions) for standing and £21 (£10 concessions) seating and include entry to the England v Exiles International Origin game. Details here.