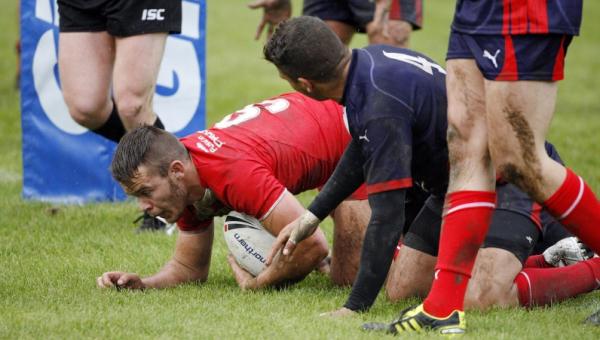 THE England Academy came from behind early on to secure a 38-18 win over their French counterparts in a hard-fought battle at Odsal Stadium on Friday evening.
Things began badly for the home side as it was France who got off the mark first when Mickael Rouch profited from a lapse in defensive concentration to cross on the 10 minute mark, with French captain Joan Guasch adding the extras.
It was a short lived lead however as England were quick to respond through full-back Lewis Tierney. A sumptuous break from winger Joe Burgess split the defence and the Wigan youngster showed great composure to draw in the last defender and play club-mate Tierney into open space 20 meters out.
Moments later England found themselves ahead when James Saltonstall cut back inside from close range to wrong foot the sliding French defence and give England a 10-6 lead.
That lead was further extended when scrumhalf Williams attacked the short side from just inside the 20 meter line. He showed a quick turn of pace to draw in two defenders and find Burgess who showed great awareness to slide over the line and evade the onrushing defence.
In the final action of the first half, man-of-the-match Ryan Hampshire scored a superb solo effort, accelerating through a hole in the French defence on the half-way line and out-sprinting the cover defence to score in the corner before adding the extras with a sublime touchline conversion making it 20-6.
The second half began as the first did, with France getting on the boards. Half-back Joris Bissiere showed excellent invention to play a reverse inside kick from 10 meters out which split the English defence and found full-back Ferret in space for an easy touchdown.
In a back and forth second half, England responded in style through Saints' Dominic Speakman (pictured). A powerful run from Luke Thompson broke the French line and hooker Speakman split the defence from dummy-half to cross under the posts.
Hakim Miloudi cut the deficit to just eight points with 15 minutes remaining when he found a gap in the defensive line but Jordan Baldwinson re-established the cushion for England when he powered over from close range 10 minutes from the end.
Moments later Luke Briscoe put the result beyond doubt when he added his name to the try-scorer list before Hampshire added another excellently struck conversion to make the final score 38-18
"I was really pleased with the performance tonight," said Academy coach Dave Elliott after the game. "In atrocious conditions we went out and played some good attacking rugby and I was pleased to see the lads have a go.
"Defensively I think we have a lot to work to do but I think that will come with more time together. Offensively we were excellent tonight but we just need to work on the little areas that creep in defensively."
Elliott will now turn his attention towards the Academy's summer tour of Australia, when they will take on the Australian Schoolboys in a two-Test series, and he says he has a lot of tough calls to make ahead of naming his touring squad next week.
"Tonight's game was all about preparation for the Tour Down Under and a few of the guys out there have cemented their place on the plane," he said.
"A few have also given me a bit of a selection headache as they put in big performances to stake a claim.
"It's going to be very tough for me to make the final selection for tour. We have a lot of very talented players in the group and not all of them can tour so I'm going to have some very hard decisions to make over the weekend."
England Academy squad v France:
1. Lewis Tierney (Wigan Warriors, Wigan St Pats)
2. James Saltonstall (Warrington Wolves, Siddal)
3. Jordan Harper (Leeds Rhinos, Normanton Knights)
4. Jonathan Ford (Salford City Reds, Blackbrook Royals)
5. Joe Burgess (Wigan Warriors, Ince Rose Bridge)
6. Ryan Hampshire (Wigan Warriors, Normanton Knights)
7. George Williams (Wigan Warriors, Ince Rose Bridge)
8. Rob Mulhern (Leeds Rhinos, Normanton Knights)
9. Dominic Speakman (St Helens, Halton Hornets)
10. Ryan Sutton (Wigan Warriors, Wigan St Pats)
11. Jordan Baldwinson (Leeds Rhinos, Hunslet Warriors)
12. Connor Farrell (Wigan Warriors, Wigan St Pats)
13. John Bateman (Bradford Bulls, Dudley Hill)
Subs: 14. Tom Gilmore (Widnes Vikings, Halton Hornets)
15. Luke Thompson (St Helens, Pilkington Recs)
16. Josh Johnson (Huddersfield Giants, Saddleworth)
17. Luke Briscoe (Leeds Rhinos, Featherstone Lions)
England Scorers:
Tries: Lewis Tierney, James Saltonstall, Joe Burgess, Ryan Hampshire, Dominic Speakman, Jordan Baldwinson
Goals:  Ryan Hampshire 5
France Under 18 squad:
1. Valentin Ferret
2. Alexis Escamilla
3. Charles Bouzinac
4. Hakim Miloudi
5. Sofiane Ghanem
6. Joris Bissiere
7. Theo Fages
8. Gadwin Springer
9. Joan Guasch (Capt)
10.Mickael Rouch
11. Benjamin Garcia
12. Yohan Didone
13. Martial Romano
Subs: 14. Alexandre Labarchede
15. Karim Madani
16. Ugo Perez
17. Alexis Meresta-Doucet
France Scorers
Tries: Mikael Rouch, Valentin Ferret, Hakim Miloudi
Goals:  Joan Guasch 3