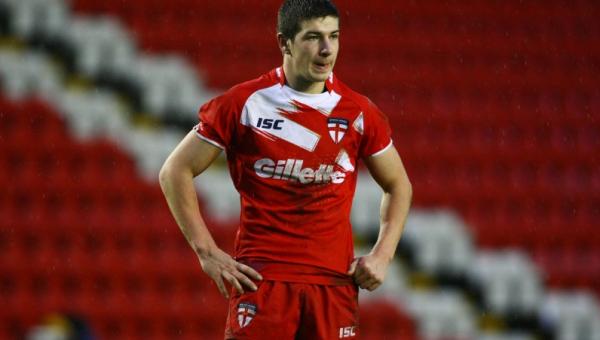 The England Academy have named a 24-man squad for their summer tour of Australia, which will see the next generation of England stars take on New South Wales Under-18s and Parramatta Juniors before facing the Australian schoolboys in a two-Test series.
The Academy depart for Australia on July 19 and the 24-man squad features a host of players with Super League experience, including Bradford Bulls forward John Bateman who will captain the tourists.
The squad comprises six players from Wigan Warriors, five Leeds Rhinos, three players each from Bradford Bulls, St Helens and Warrington Wolves with two Huddersfield Giants and sole representatives from both Hull FC and Salford City Reds.
The side travel Down Under hoping to emulate the feats of the 2004 England Academy squad who, captained by James Graham, were the last England Academy team to defeat the Aussies on home territory.
Academy coach Dave Elliott is confident his squad can repeat that success.
"It has been very tough choosing the final 24 man squad," said Elliott. "We've got a lot of talented players at this age group and there are a lot of disappointed players who have missed out on selection.
"For those that have made it into the squad, being able to represent your country on a tour in Australia is a fantastic honour. It's a great opportunity and one that many players will never experience – so this is a special opportunity for this group.
"We are going there hoping to emulate the success of 2004 and win the series, so the pressure is on us to perform. The players have all said that they want to win – they're all very determined to do the shirt proud.
"We are under no illusions as to how tough the challenge will be but we have some very exciting and talented young players in this squad and I'm confident that they'll be able to deliver the results that we want."
England Academy 24-man touring squad (professional and community clubs):
Ben Currie (Warrington Wolves, Parkside Golbourn)
Connor Farrell (Wigan Warriors, Wigan St Pats)
Dominic Speakman (St Helens, Halton Hornets)
Gavin Bennion (Warrington Wolves, Ryland Sharks)
George Williams (Wigan Warriors, Ince Rose Bridge)
James Cunningham (Hull FC, East Hull)
James Duckworth (Leeds Rhinos, Whinmoor Warriros)
James Saltonstall (Warrington Wolves, Siddal)
Joe Burgess (Wigan Warriors, Ince Rose Bridge)
John Bateman (Bradford Bulls, Dudley Hill)
John Ford (Salford City Reds, Blackbrook Royals)
Jordan Baldwinson (Leeds Rhinos, Hunslet Warriors)
Josh Johnson (Huddersfield Giants, Saddleworth)
Lewis Tierney (Wigan Warriors, Wigan St Pats)
Liam McAvoy (Bradford Bulls, Broughton Red Rose)
Liam Sutcliffe (Leeds Rhinos, Hunslet Warriors)
Luke Briscoe (Leeds Rhinos, Featherstone Lions)
Luke Thompson (St Helens, Pilkington Recs)
Mark Percival (St Helens, Halton Hornets) – pictured
Oliver Roberts (Bradford Bulls, Siddal)
Peter Aspinall (Huddersfield Giants, Huddersfield YMCA)
Ryan Hampshire (Wigan Warriors, Normanton Knights)
Ryan Sutton (Wigan Warriors, Wigan St Pats)
Steve Ward (Leeds Rhinos, Hunslet Warriors)