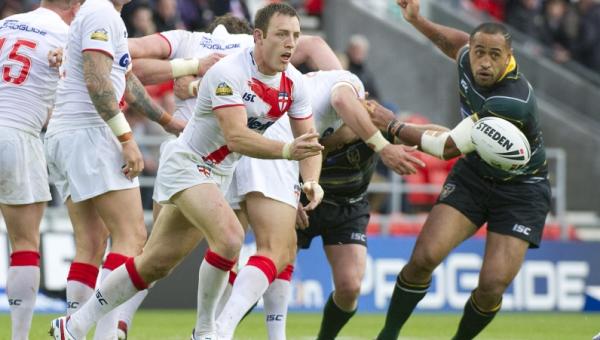 SAINTS representative contingent came through the recent International Origin match with a clean bill of health and are now preparing for the trip to Salford on Friday.
Francis Meli, Tony Puletua, Lance Hohaia, Sia Soliola and Anthony Laffranchi all featured for the Exiles whilst James Roby (pictured) starred for England.
Mark Flanagan, Paul Clough and Gary Wheeler also played for the Knights against Ireland and Jon Wilkin and Lee Gaskell trained with both the senior and 'A' teams.
"Thankfully, the lads have come through ok," Acting Head Coach Mike Rush reported, "but we've had to be sensible with what we could do with them earlier in the week.
"They've had a match whilst other players in the squad have got some sun on their backs for a few days.
"We'll have a big session together on Wednesday, one before the game and then into the match. It's not ideal preparation but we'll be fine."
Saints will meet a number of alumni on Friday such as Matty Ashurst, Sean Long and Phil Veivers.
They'll also come up against Matty Smith – the 24-year-old scrum half that has been linked to a number of clubs recently.
"I've known Matty since he was 14 when he left Everton and joined Moss Bank Bulldogs," Rush continued. "He's a great kid and we've faced him a few times over the years. It was hard for me when he left as you want the kids who've come through the system to stay.
"But you have to respect the decisions of the players. We had Longy and Kyle [Eastmond] coming through and sometimes somebody has to move to get a start and if rumours are to be believed and he ends up at Wigan then he will be vindicated in the decision he made.
"It's the downside of being successful at youth level; those players want to challenge themselves to get more money, a start at a club or they can't see their pathway through.
"You'd keep them if there wasn't a Salary Cap, but at the time you couldn't justify having three scrum halves in the side.
"Matty was always a nice kicker of the ball and you can see that with the natural repetitive swing he has from his football days. Jamie Ellis was a good soccer player too as was Ste Tyrer. Matty kicked us to death down at Celtic once and we had to scrape a win in that game. It was something like 4-0. We know what to expect and we have to put pressure on the people around him."
He added: "Salford are a good team and we always seem to struggle when we play them away from home. It will be a tough match for sure.
"We have gone from tenth to fourth since we took over and that shows progression. Everyone is taking points off each other and a winning roll doesn't take much to get you up there but likewise if you lose it won't take much to drop back down there.
"We need to continue to put pressure on those above us."