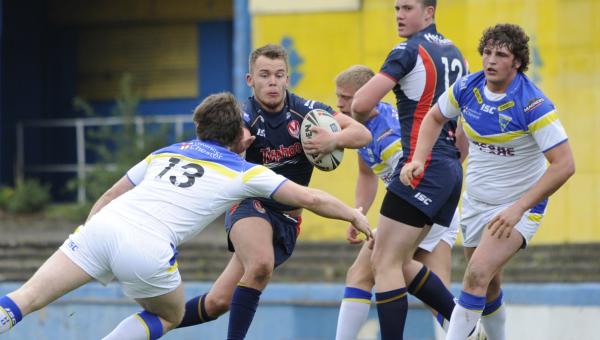 THE Reserves resumed their season after the mini break in the worst possible way slumping to a 44-28 defeat at the hands of a Salford side containing one or two familiar faces, writes Graham Henthorne, Team Manager.
Both Joe Bate and Dan Brotherton now ply their trade at the Salford City Stadium and both got their names on the score sheet.
The game had started well for the Saints with some controlled play in attack forcing the hosts to start from deep in their own half and aggressive defence forcing the normally cool Marc Sneyd to kick out on the full twice.
In fact the Saints capitalised on this dominance to open the scoring in the 15th minute. A drive from the hard working Anthony Walker accompanied by a little dummy put the big prop through the line. As he approached the full back he turned it back on the inside for the supporting Scott Hale to stroll to the sticks for the try.
However, that was as good as it got for the Saints in a difficult half.
Firstly Adam Swift limped off with calf problems forcing a reshuffle with Jamie Foster moving to stand off and Alex Clare to centre. Ten minutes later an injury to Clare saw him replaced forcing Dom Speakman (pictured) into stand off, a position he hasn't played at this level.
Couple this with some poor tackling and the Saints found themselves 14 points behind at the break.
There was a determination to turn it around in the second period but it was short-lived as Salford extended their lead scoring on their first set.
A sharp run from dummy half by Marcus Baines set up the position for Danny Jones to dart over but two quick tries put the Saints further behind and out of contention by the hour mark.
Scott Hale scored his second from Danny Yates' short pass and there were consolation tries from Dom Speakman, an interception 30 metres out, and Jayden Sandford after good work by Walker, Baines and Foster.
In truth though, this was a poor performance. The forwards led by Walker, Jordan Hand and the impressive debutant Greg Richards, worked hard but there was little to worry the hosts.
Match Summary:
Salford:
Tries: Luke Towers, Andy Morris, Josh Veivers, Dan Brotherton 2, Adam Walne, Ryan Boyle, Callum Marriott, Joe Bate.
Goals: Marc Sneyd 4.
St Helens:
Tries: Jaydon Sandford, Dom Speakman, Scott Hale 2, Danny Jones.
Goals: Jamie Foster 4.
Half Time: 6-20
Full Time: 28-44
Teams:
Salford:
1. Luke Towers; 2. Niall Evalds, 3. Andy Morris, 4. Josh Veivers, 5. Dan Brotherton; 6. Tom Whitehead, 7. Marc Sneyd; 8. Adam Walne, 9. Adam Files, 10. Ryan Boyle, 17. Callum Marriott, 12. Will Hope, 13. Alex Davidson.
Subs: 11. Chris Hankinson, 14. Aaron Hewitt, 15. Adam Dybdall, 16. Joe Bate.
Saints:
1. Corey Lee; 2. James Hill, 3. Ste Yates, 4. Jamie Foster, 5. Jaydon Sandford; 6. Adam Swift, 7. Danny Yates; 8. Jordan Hand, 9. Dom Speakman, 10. Ant Walker, 12. Joe Greenwood, 11. Scott Hale, 13. Danny Jones.
Subs: 14. Marcus Baines, 17. Aaron McCloskey, 16. Alex Clare, 20. Greg Richards.