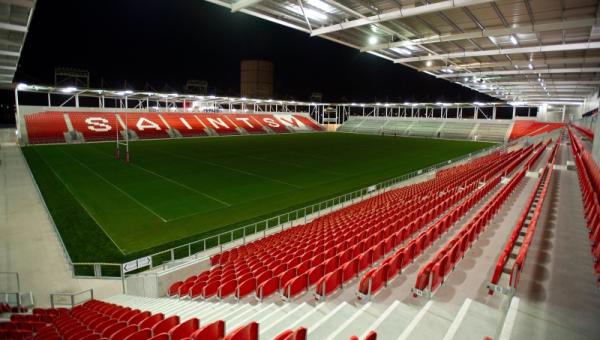 AUSTRALIA will take on Fiji at Langtree Park on November 2, 2013 in their World Cup Group A.
Fixtures for the tournament have been announced now all venues are confirmed.
RLWC2013 General Manager Sally Bolton said: "It is important to note that a small number of the dates may be subject to change. Our host broadcast partners will also be announced soon and when the TV schedule is finalised we will be able to set in stone the fixtures and kick-off times.
"This is more exciting news for RLWC2013 and shows again that we are in great shape in terms of planning. Announcing these fixture dates now will allow Super League and Championship fans to start making plans for the tournament as they receive our 'early bird' offers with their season ticket renewals over the next few weeks.
"We would encourage all Rugby League fans to buy early, especially for the showpiece games, as we have already had enquiries from St Helens fans, who were the first to receive their RLWC2013 ticket offers with their renewal information this week. Judging by our social media interaction we expect many more enquiries as the country enjoys a massive few weeks of sporting action."
RLWC2013 tickets go on general sale on Friday October 26, one year out from the first match double-header at the Millennium Stadium.
Group Games – Round One
1. Saturday 26th October Millennium Stadium, Cardiff Australia v England Group A
2. Saturday 26th October Millennium Stadium, Cardiff Wales v Italy Group C/D
3. Sunday 27th October MS3 Craven Park, Hull, Papua New Guinea v France Group B
4. Sunday 27th October Halliwell Jones, Warrington, New Zealand v Samoa Group B
5. Monday 28th October Spotland Stadium, Rochdale, Fiji v Ireland Group A
6. Tuesday 29th October Derwent Park, Workington, Tonga v Scotland Group C
7. Wednesday 30th October Memorial Stadium, Bristol, USA v Cook Islands Group D
Group Games – Round Two
8. Friday 1st November Parc des Sports, Avignon, New Zealand v France Group B
9. Saturday 2nd November Galpharm Stadium, Huddersfield, England v Ireland Group A
10. Saturday 2nd November Langtree Park, St Helens Australia v Fiji Group A
11. Sunday 3rd November Glyndŵr University RS, Wrexham, Wales v USA Group D
12. Sunday 3rd November Derwent Park, Workington, Scotland v Italy Group C
13. Monday 4th November MS3 Craven Park, Hull, Papua New Guinea v Samoa Group B
14. Tuesday 5th November Leigh Sports Village, Tonga v Cook Islands Group C/D
Group Games – Round Three
15. Thursday 7th November Salford City Stadium, Scotland v USA Group C/D
16. Friday 8th November Headingley Carnegie, Leeds, New Zealand v Papua New Guinea Group B
17. Saturday 9th November KC Stadium, Hull, England v Fiji Group A
18. Saturday 9th November Thomond Park, Limerick, Australia v Ireland Group A
19. Sunday 10th November The Gnoll, Neath, Wales v Cook Islands Group D
20. Sunday 10th November The Shay, Halifax, Tonga v Italy Group C
21. Monday 11th November Gilbert Brutus, Perpignan, France v Samoa Group B
Quarter-Finals
22. Friday 15th November Headingley Carnegie, Leeds, Winner B v Winner C QF1
23. Saturday 16th November Glyndŵr University RS, Wrexham, Winner A v Winner D QF2
24. Saturday 16th November DW Stadium, Wigan, Runner Up A v 3rd Place B QF3
25. Sunday 17th November Halliwell Jones, Warrington, Runner Up B v 3rd Place A QF4
Semi-Finals
26. Saturday 23rd November Wembley Stadium, London, Winner Q/F 2 v Winner Q/F 4 SF1
27. Saturday 23rd November Wembley Stadium, London, Winner Q/F 1 v Winner Q/F 3 SF2
The Rugby League World Cup Final
28. Saturday 30th November Old Trafford, Manchester, Winner S/F 1 v Winner S/F 2