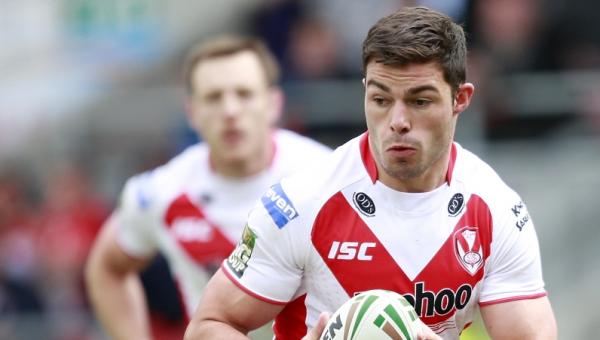 SAINTS have announced their squad for Sunday's Stobart Super League Round 22 game with Huddersfield Giants.
Mark Flanagan is named in the 19 once more and is set to make his first appearance since the end of June.
Shaun Magennis is also recalled whilst Tony Puletua is banned for a match.
The squad is:
1. Paul Wellens, 3. Michael Shenton, 4. Sia Soliola, 5. Francis Meli, 6. Lance Hohaia, 7. Jonny Lomax, 8. Josh Perry, 9. James Roby, 10. Louie McCarthy-Scarsbrook, 12. Jon Wilkin, 13. Chris Flannery, 14. Anthony Laffranchi, 15. Mark Flanagan 16. Paul Clough, 18. Shaun Magennis, 19. Andy Dixon, 20. Lee Gaskell, 21. Tommy Makinson, 26. Josh Jones.
Paul Anderson's Huddersfield team will be chosen from:
1. Scott Grix, 2. Michael Lawrence, 3. Leroy Cudjoe, 4. Lee Gilmour, 7. Danny Brough, 8. Eorl Crabtree, 9. Luke Robinson, 10. Keith Mason, 12. David Fa'alogo, 13. David Faiumu, 15. Larne Patrick, 18. Jason Chan, 19. Tommy Lee, 20. Luke George, 23. Jacob Fairbank, 26. Jamie Cording, 29. Greg Eden, 35. Scott Moore, 36. Brett Ferres.
The game kicks off at 7.45pm and the referee is James Child.
Tickets are on sale for the game too and details are here.
Stat Pack:
Huddersfield are seeking their first away win against St Helens in the summer era on Sunday night – all five of the Giants' Super League wins against the Saints have come at home.
Huddersfield's last league win at St Helens was 16-15 at Knowsley Road on 26 November, 1978 – with Saints winning 18 successive home competitive fixtures since then.
Last Ten Meetings:
Huddersfield 17, St Helens 16 (SLR5, 4/3/12)
St Helens 19, Huddersfield 6 (SLR24, 12/8/11)
Huddersfield 40, St Helens 18 (SLR14, 14/5/11)
St Helens 42, Huddersfield 22 (SLQSF, 24/9/10)
St Helens 30, Huddersfield 22 (SLR17, 11/6/10)
Huddersfield 6, St Helens 24 (SLR8, 28/3/10)
St Helens 15, Huddersfield 2 (SLQPO, 19/9/09)
St Helens 12, Huddersfield 10 (SLR25, 21/8/09)
Huddersfield 24, St Helens 14 (CCSF, 9/8/09)
(at Halliwell Jones Stadium, Warrington)
Huddersfield 6, St Helens 23 (SLR2, 22/2/09)
Super League Summary:
St Helens won 27 (includes wins in 2009 and 2010 play-offs)
Huddersfield won 5
Ups and Downs:
St Helens highest score: 68-18 (H, 1998) (Widest margin: 68-18, H, 1998; 54-4, H, 2007)
Huddersfield highest score: 40-18 (H, 2011) (also widest margin)