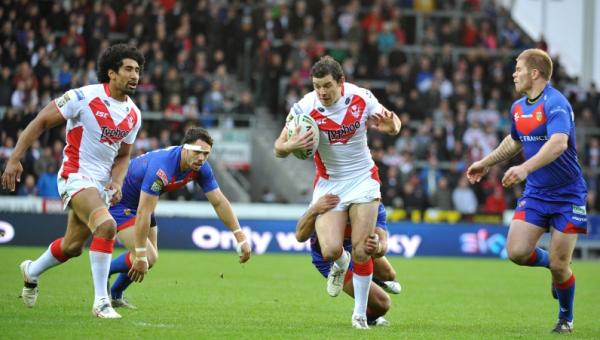 PAUL Wellens says Saints v Warrington clashes are one of the highlights of the Rugby League calendar.
And he should know as his career has spanned 32 matches against the Wolves – being unbeaten in 29 of them.
"It's up there with the big games isn't it?" the Club Captain said. "Recently, history has shown games often go down to the wire, pardon the pun. We are very similar in the way we approach the game – we both love to play on the front foot, attack and throw the ball around. That is why they are exciting games for sure.
"It is a chance for us to give ourselves the best shot of finishing second… and going back a few months no one would have given us a chance of getting near the top two. But a few clubs have lost some games and we have continued to win. But, there's no doubt we have to win on Monday to have a chance. We can't drop many points and this game is one we need to win if we want to finish in the top two. It would be a huge achievement to do that.
"We have slowly but surely gone about our business and taken one game at a time. We're happy with our form and the way we are going but do recognise we can improve. We scored 40-odd points against Huddersfield but bombed a fair few chances. We need to take them because come the end of the season and bigger games we will need to take them."
He continues: "It's a tough game in the playoffs wherever you finish. It's a confidence thing and maybe home advantage will help. You have to try and finish as high as you can don't you. As a team you shouldn't take your foot off the gas and if you get second you get home advantage.
"We've gone back to basics; that's meant we've played well and are on the run we are at the moment. We don't worry about the opposition. We know we have the best 9 in the comp and if we get him on the front foot we are difficult to beat. Similarly, Warrington are the same with Michael Monaghan.
"It should be a cracker on Monday. They have the ability to score a lot of points and our defence will be tested more so than the last couple of weeks."
Tickets are still available for the Monday Night Thriller! You can buy from the Ticket Office at Langtree Park, by calling 01744 455 052 or by logging on here.